Vishal and Hansika Motwani starrer "Aambala" has got mixed reviews from the audience and critics. While the storyline has not impressed many, the masala elements have turned out to be the highlight of the Sundar C directorial flick.
Aambala" is the second collaboration of Sundar C and Vishal Krishna. Their earlier movie "Madha Gaja Raja" did not see the light of the day for some reasons. The latest movie has Hiphop Tamizha's music, Gopi Amarnath's cinematography and NB Srikanth's editing.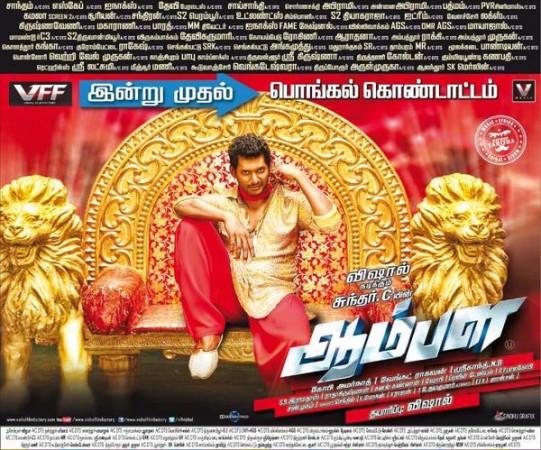 The story of "Aambala" is about the hero, who goes to his village to solve some issues between his father and three aunts. How he solves and how the story takes twists form the crux of the story. Below, we bring you the live updates of "Aambala".
Haricharan Pudipeddi Writes
#Aambala cliched rehash of 80s family drama in which Sundar. C gives dir Hari a tough competition. Throw in some sleaze and comedy. The end
I think Hari must have ghost-directed #Aambala. It definitely looks like a product from his factory. Maybe Sundar directed the comedy part
Sai Shyam G Wrote
#Aambala Review - There are offensive camera angles involving #Hansika and an item song too, but still movie got 'U'
#Aambala Review - Never promised to offer anything new, but the regressive jokes could have been avoided.
Aambala first half - The actual plot starts only after 45 minutes. The episodes involving #Santhanam drag big time. Hardly funny so far!
Suganth Posts
Outdated plot, lacklustre script and uneven comedy make this a mild disappointment.
Kannan Writes
After seeing #Aambala, now I can guess the reason why the other Vishal - Sundar.C film #MadhaGajaRaja not released yet! :)
Sreedhar Pillai Tweets
#Aambala - 2.5/5 Typical #SundarC template mass masala. Nothing new in story or treatment. #Vishal & #Santhanam carries the show.
#Aambala - 2.5/5. @ihansika has never looked so glam, @hiphoptamizha music is catchy. Commercial Elements r not mixed well. 4 mass market.
Surendhar Mk Posted
#Aambala: Nauseating fun. Sleazy jokes. Sometimes made me think #Poojai was better.
Raisa Nasreen Tweeted
I start my morning by watching a movie filled with the most regressive jokes & low shot camera angles of Hansika! #Vishal's #Aambala.
My morning also begins by #Vishal giving gyaan on what high class girls like! Like wahattt!
Only Kollywood Tweeted
#Aambala - A regular Sundar C fare with occasional gigs.
Half way through #Aambala. Majorly driven by Santhanam in the first 40 mins. Story shifts gears now.
Karthik Maddie Posted
#Aambala Pucca Family Entrtainr. Its lyk Pongal celebrtion n Theatrs. Rit tym to releas Hats of @VffVishal and salute 2 d team @khushsundar
Karthik Thalapathy Writes
#Aambala Good in all aspect !!! Kudos to Team!!!
#Aambala : Pakka Treat For Pongal !! #HiphopAADHI kalakitaru !!! Sathish nd Santhanam Rocked it !!! All will Love it Except Kodu fans Rating : 3.75/5
Sandheep Shanmugaraj Posts
Vishal has met the saturation point with Aambala..
Its time for him to try different genres with lesser commerical elements !!!
#Aambala : Typical Tamil Cinema Masala film with overdoze of comedy & right mixture of songs & fight sequence.. SundarC & Vishal
Starts of with 'Time to lead ' and ends d same with it! #Aambala
Kollywood Cinema Writes
#Aambala 3.5/5 Sundar C Story was good Comedy + Action + Family Drama all in a Single Movie Another success for @VffVishal banner. Ver: Good
Arunachalam M Posts
Songs In #Aambala Are Fantastic! Colourful And Glamorous Too! But Third Song Within One Hour!
ArunachalamM Posts
#Aambala Has Some Shadows Of #Kalakalappu But Still Makes Us To Laugh! Sundar.C Sir You Are Great! #I Liked The Movie A Lot!
#Aambala - 2nd Half Is A Complete Laugh Riot! Will Attract Family Audience A Lot! #Vishal Has A Winner Once Again! Go For It For A Fun Ride!
#Santhanam And #Kiran "Scenes" In The Climax Is Damn Awesome!
Santhanam All The Way, Hilarious! #Aambala
Krmaten Wrote
#Aambala is a great casting festival!! Truly enjoyed it so much.. Thanks to #SundarC sir @VffVishal @ihansika @khushsundar n all cast&crew..
Only Kollywood Writes
#Aambala - A regular Sundar C fare with occasional gigs.