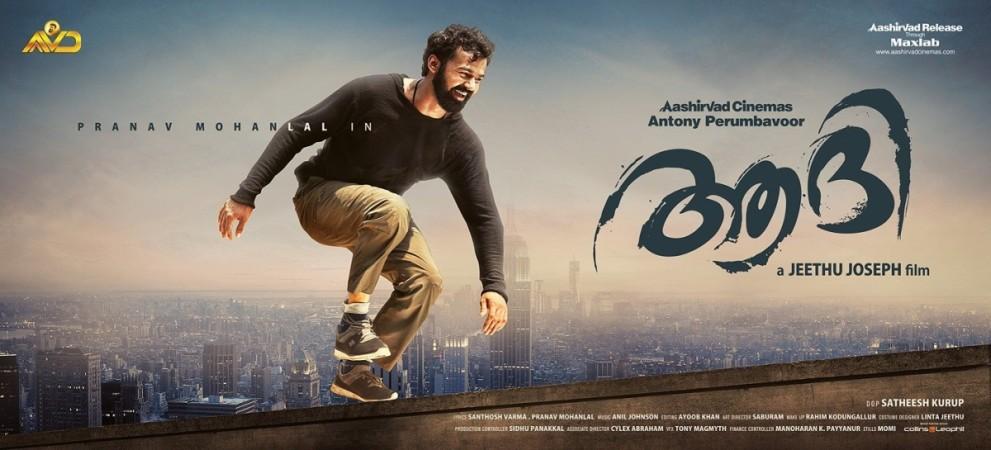 The first video song from Pranav Mohanlal's much-awaited debut Aadhi is out. The melodious number features a lovable but gloomy Pranav Mohanlal along with some of the key emotional moments from the movie.
The song 'Sooryane... Mukile... Nee Moodiyo Akale...' features the bearded look of Pranav along with other major characters. The soulful tune carries the listeners along with its melodious rendering.
The 4-minute 17-second song is written by Santhosh Varma and composed by Anil Johnson. The song is sung by Najim Arshad.
Also Read: Dileep's surprise visit to social media with Kammara Sambhavam first look poster and a cryptic message
Lena, Sidhique, Anushree, Sharafudheen, and Jagapathi Babu are also featured in the song. The song has some touching moments indicating broken family ties and the excruciating pain of loss. Pranav Mohanlal steals the show in some shots with his melancholic looks and effortless rendering of grief.
The movie has been trending on social media ever since superstar Mohanlal announced his son's much-awaited acting debut. According to reports, the movie has been offered a whopping amount of satellite rights.
Reports also suggest there will be some shows for fans prior to the official release of the movie, which is a rare record for a debutante actor.
Pranav Mohanlal plays Aadhithya Mohan alias Adhi, an aspiring musician, in the movie directed by Jeethu Joseph.
Also Read: Nigerian actor googles for Malayalam words 'Pwoli' and 'Katta Waiting': Sudani From Nigeria is the answer!
The teaser and trailer of the movie hinted at a coming of age story with a thriller flavour to it.
Even though the first video song showcase some female characters in the movie, there is no sign of a romantic endeavour for the young actor. Moreover, Aadhi had said in the trailer that he was focused on his dream of becoming a musician and had no time for a girlfriend.
Pranav had also sung a song for the movie.
While the guessing game about the plot of the movie is trending on the social media platforms, Jeethu Joseph had revealed in a conversation that Aadhi is all about family ties and its warmth.
According to the filmmaker, Aadhi revolves around the titular character and follows his life when it catapults after a particular incident.
Earlier, pictures of Pranav practising parkour had went viral on social media. But, Jeethu Joseph had brushed off the rumours that the movie is an out-and-out action thriller. He had also revealed that the parkour expertise comes to the rescue of Pranav's character at a crucial situation in the movie.
The movie, which is produced by Antony Perumbavoor under the banner Aashirvad Cinemas, will hit screens in January.