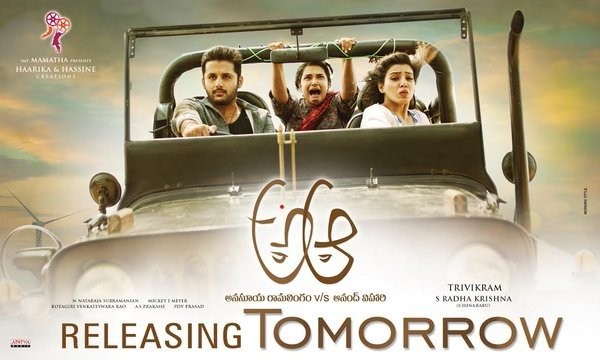 The Anti-piracy team has caught a student from Muvico Rosemont, Chicago, red-handed while he was allegedly streaming the movie "A...Aa" live on his Facebook account.
The makers of "A...Aa" released a statement to the media confirming the news about its streaming online. A student from Valparaiso University, Indiana, was watching the movie in the premiere show in Muvico Rosemont, Chicago, on June 1. While watching the film, he started recording and streaming it on his Facebook page.
The Anti-piracy team from Hyderabad realised this alleged streaming of "A...Aa" within a couple of minutes after it was started. Actress Anupama, who is playing the second female lead in the film, found out this alleged act and the makers of the movie have all thanks for her. "Special thanks to Anupama Parameswaran who identified the link and informed to Production team," reads the statement.
The team got the links removed immediately and also informed to the theatre management. The owners of the cinema hall called in the police and the student was caught red-handed with content. The cops arrested the student and deleted all the content immediately from his device. They have also filed a case number T16000061 with Village of Rosemont Police department.
"Recording and sharing unauthorized video in social media is also a part of cybercrime. We request especially students in USA not to involve these kinds of issues and get into trouble yourself. Anti-Piracy team is actively working on it trace any kind of illegal activities," say the bosses of the film.
Directed by Trivikram Srinivas, "A...Aa" features Nithin, Samantha and Anupama Parameswaran in the lead roles. This romantic comedy film has garnered positive talk. However, the makers are apparently worried over its piracy after this alleged live streaming of the film. They are leaving no stone unturned to stop its piracy.
In their statement to press, the producers requested viewers to support anti-piracy movetment. "If you found to have any illegal links on the net, please report to movie@blueskycinemas.com so that our team can react appropriately. Please watch on big screens and stay away from piracy," the statement read.