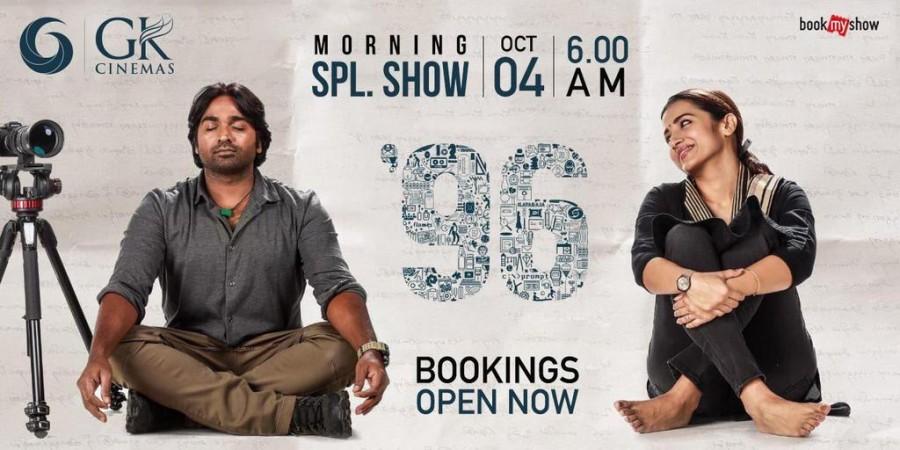 Vijay Sethupathi and Trisha Krishnan's latest movie 96 has garnered unanimous positive reviews from the press show held in Chennai on October 1. The story, romance between the lead actors and the songs have been hailed by those who have already seen in the flick.
Going by the critics' response, 96 evokes sweet memories from the past something like Cheran's Autograph did years ago and Malayalam film Premam in 2015. What makes this film different is that the focus is not just on the hero, but also on the heroine's life in C Prem Kumar-directorial film.
A reunion of classmates in Tangore triggers memories from the past for Ram (Vijay Sethupathi), who is now a travel photographer by profession. The audience will get to know about the school, the places he spent in his childhood and about his love Janaki Devi (Trisha). What happens when they meet again after 22 years is the crux of the story.
So, what exactly the movie offers to the audience? Find out from the critics' tweets below:
Ramesh Bala: #96TheMovie [4/5]: Dir @Premkumar1710 has done a movie, very true to the romantic genre..
Not making any commercial comprises.. But with great music & visuals and his matured way of handling romance makes it a great watch..
If love/romance means anything to u, this is ur movie!
#96TheMovie [4/5]: Music, especially songs by @govind_vasantha are in totally different league.. Obviously, the album created a sensation..
The placement of songs in the movie makes it magical..
Singer @Chinmayi deserves a National Award for her singing..
#96TheMovie [4/5]: @VijaySethuOffl - By now, we all know - he is a natural actor.. He proves it time and again, how classy performer he is..
@trishtrashers is in a memorable role.. She is beautiful, with hardly any make-up.. Performed with subtlety.. She is simply superb..
#96TheMovie [4/5]: An Instant Classic in the Romance Genre..
When Two High school lovers meet in a school reunion, after a long time - who were not in touch.. What happens next..
Told in a matured way.. The flashback portion is top-notch too..
Great music and visuals..
Rajasekar: #96TheMovie - Without any intimate scenes @Premkumar1710 passes love to our hearts with two dignified souls @VijaySethuOffl @trishtrashers. They never say 'I Love You', they never argue for silly reasons, no ego trip&all we see is pure love. A unique romantic tale in Tamil cinema
#96TheMovie - 4/5, It's not an easy task to pull off a film with just two characters throughout the second half. Easily one of the realistic romantic dramas released in Tamil cinema. Thoroughly enjoyed @VijaySethuOffl @trishtrashers @Premkumar1710
#96TheMovie - 4/5, flawless poignant romantic drama. The ending is as real as most of the school love stories in real life. Thanks to @Premkumar1710 for not adding any cinematic clichés. Lovely lovely performances from @VijaySethuOffl & @trishtrashers ❤️
#96TheMovie - the choice of actors for the childhood versions of @VijaySethuOffl - @trishtrashers and all other characters are picture perfect. @Premkumar1710
#96TheMovie first half - woah, a heavenly feel-good romantic drama that takes us to the pleasant school days. Brilliant so far, a delightful walk down the memory lane. @govind_vasantha is the film's biggest strength. Outstanding performances from @VijaySethuOffl - @trishtrashers
Haricharan Pudipeddi: #96TheMovie - 5 stars. A heartwarming tale of love and letting go. Amazing how the film through its lead characters conveys so much about love without actually saying it on screen. Absolute joy to watch @VijaySethuOffl and @trishtrashers but this film belongs to @govind_vasantha
Richard Mahesh R: #96TheMovie - Ram-Jaanu you just made us go through an unrecoverable experience. How to express in words? Magical, Pain, joyful tears or memories to cherish - it's beyond words. An amalgamation of poem and painting together. 157 minutes of deep joy pain and smile. Loved it
Kaushik LM: #96theMovie #96Movie - My rating 4/5.. Nothing much to fault here..
Porumaiya Azhaga oru Padatha eduthurukaanga.. Grt acting meets Grt filmmaking.. Joins the list of Indian romance classics..
sridevi sreedhar: #96theMovie BRILLIANT! Best film I've seen in a long time . A big round of applause to the entire team of
@VijaySethuOffl & @trishtrashers who are outstanding and the unseen heroes @Premkumar1710 @govind_vasantha
@MadrasEnterpriz @7screenstudio @proyuvraaj