It all happens over the course of one night; a long, never-ending conversation that the audience knows cannot come to any satisfying conclusion, yet hopes for one. 96 is the story of Ram and Jaanu, high school sweethearts who are separated well before they even have a shot at an actual conversation. That conversation happens a whole 22 years later and it is a real whirlwind of expertly crafted drama from debutant film maker C. Prem Kumar.
A movie like 96, about unrequited love, could and has in the past gone down to become overlong and boring, or happy and hopeful. The director has avoided both routes and seems perfectly fine with leaving his viewers just wanting a little bit more, maybe a kiss, or at least a hug and the audience is actually better off for it. One could come up with a number of ways or turns this film could have taken, and a good number of them might have even worked in the context of Tamil cinema, but Prem Kumar instead, chose to take his story through its least cinematic bend.
On to the cast, Vijay Sethupathi and Trisha play the leads and from the very opening (title card has their names side by side, which is rather interesting) completely belong to them. Sethupathi plays Ram, a travel photographer who is completely dedicated to his work. He also teaches a class where he is strict but provides artistic guidance in what can be described only as old school in the best possible way. 96 could well be Sethupathi's greatest performance, to date, it certainly is this year's. He absolutely sinks his teeth into the role and even when he says nothing, he translates everything he needs to convey on to the screen. 96 is proof that a simple concept and bare storyline can be elevated to an emotional high if the actors reel it in, and reel it in they do.
Trisha's casting is a revelation. Is this her best role till date? Quite possibly. Not since Jessie from VTV have the Tamil audience been treated to a well-rounded and complex human character played by Trisha.
Trisha is a simple, small town girl who has spent the last 15 years or so in Singapore and it shows. The ease in which her character speaks about sex, relationships, love, and moving on is an absolute treat to watch. Here's to hoping we get to see a lot more 3-dimensional women in Tamil cinema.
The supporting cast all seem serviceable till the movie cuts back to 1994 and are instantly recognisable. We are not introduced to them by name, but they unmistakable. Younger actors are often times either miscast or plain bad, but this film found the right people and everything just works.
The scenes where an adult Ram goes back to his school is nothing short of a nostalgia bomb. Props to the director for holding on to that scene for as long as he did. There is also a short, but a memorable role played by veteran comedian Janagaraj as the school's watchman, lovely touch.
Sound and music deserve a special mention here. Thaikoodam Bridge's Govind Menon and his score really add to the movie. The sweeping highs and crushing lows of the story are well complemented by music and only once or twice does one feel like a song was out of place (all in montage, but still). There are many throwbacks to Illayaraja throughout the film and one particular string of sequences involving a song from Thalapathi is used to soul-crushing effect. Is it even possible to fall in love without Illayaraja providing the soundtrack? We don't want to know.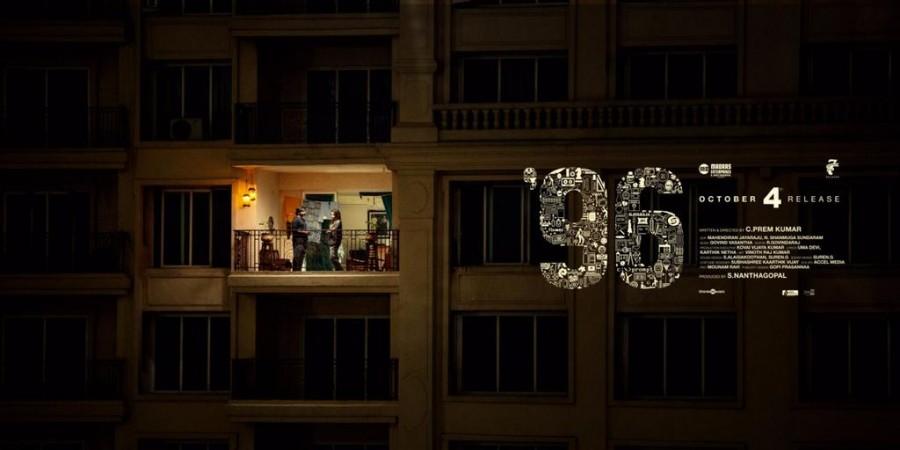 While the film is filled in with delicious music throughout, there are moments of silence that really land the punch as intended. Stellar sound work all the way.
If it seems like this review is focussing only on the positive side of the movie without mentioning any of the negatives, it is because a film with several flaws can actually be overshadowed by the way the story is told and how it makes you feel as well as how the actors have carried the film. If one needs to find fault, well, the movie is not for everyone. It is a slow burn, a quiet and contemplative film that takes its time. Scenes are held on to for far longer than typical Tamil movies and a few people in the cinema hall were audibly frustrated by the pace.
Should you go watch 96? Absolutely. It is a heart-breaking, soul-crushing, and emotion-draining romantic tragedy that is an instant recommendation. Trisha and Sethupathi nail their roles. The directorial team has done wonderful work and one can only wait for C. Prem Kumar's next.