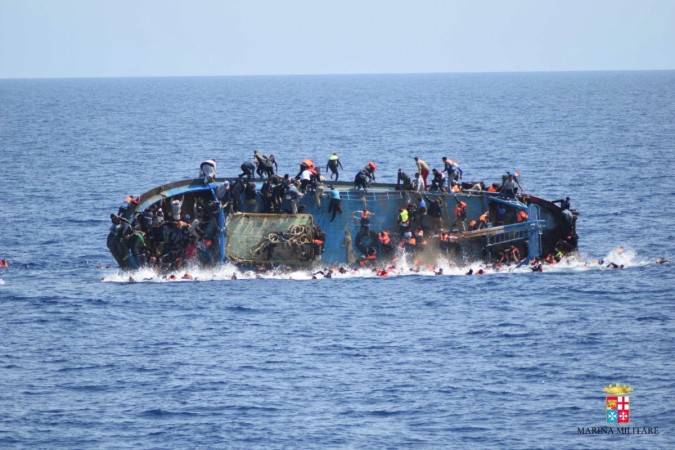 Hundreds of migrants drowned off the coast in Libya in the past week as they tried to sail to Italy, Reuters reported, citing Médecins Sans Frontières (MSF), or Doctors Without Borders, and the Office of the United Nations High Commissioner for Refugees (UNHCR), also called the United Nations Refugee Agency.
MSF said they do not have the exact numbers but as many as 900 migrants are feared dead, while the UN agency said over 700 people have drowned. As many as 14,000 migrants were also reportedly rescued since last Monday.
The first incident took place on Wednesday when at least 100 people were suspected to have drowned, reported Reuters.
"The first one was Wednesday, which was widely reported. A boat capsized, carrying about 600 people. Some of those people are still missing," Al Jazeera quoted UNHCR spokesman for Europe William Spindler as saying.
As many as 670 passengers were believed to be on board a large fishing boat that sank on Thursday, the UNHCR was quoted by Reuters as saying on Sunday. Close to 100 people survived and at least 550 were feared dead, it added.
The third incident reportedly occurred on Friday and an Italian Navy ship is said to have recovered 45 bodies and rescued 135 from a "half-submerged" rubber boat.
"In total, we fear that in these three incidents more than 700 people are missing, presumed drowned. There is a number of boats at the moment trying to make their way from Libya to Italy and several rescue operations are ongoing," Spindler told Al Jazeera.
Children and women were among the deceased people.
"It's time that Europe had the courage to offer safe alternatives that allow these people to come without putting their own lives or those of their children in danger," Reuters quoted Tommaso Fabri of MSF Italy as saying.