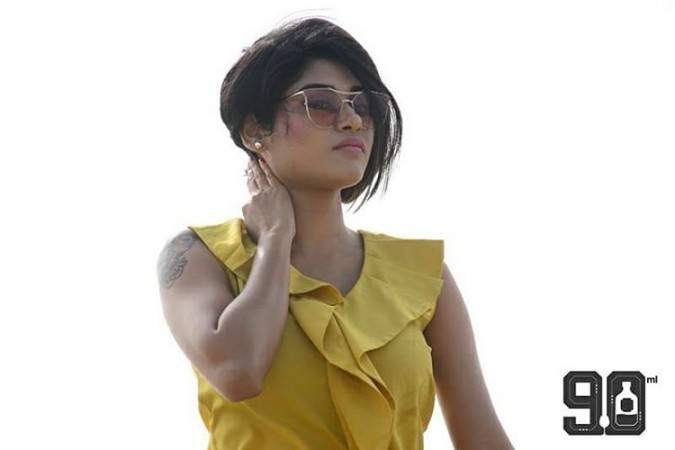 Oviyaa, after winning the hearts of millions of fans with Bigg Boss Tamil 2, is returning to films with 90 ML. Anita Udeep-directorial film has Bommu, Masoom, Shree Gopika, Monisha, Anson Paul and Tej Raj in the cast.
The movie has Arvind Krishna's cinematography, Antony's editing, Purusothaman's art direction, Jules and Sonia's costumer designing, Brinda, Kalyan, Sandy and Poppy's choreography and Miracle Michael's stunt.
Multifaceted Simbu has composed the music and a few songs that include 'Marana Matta' track has stuck the chord with the viewers.
Story:
90 ML is an adult comedy which revolves around five women. Oviyaa (Rita) plays the role of a beautician and a progressive thinker who leads the life by her own terms. She is in a live-in relationship. Thamara (Bommu Lakshmi) is worried about her thug husband, Kajal (Masoom Shankar)'s husband has found another woman to fullfill his sexual desire, Paaru (Shree Gopika)'s hubby struggles to overcome from his past break-up and Sukanya (Monisha Ram) falls in love with the same sex, but her family is against the relationship.
Four of these girls have four different problems. How they deal it and whether they find solution forms the crux of the story.
Analysis:
The movie attemps to propagate feminism and tries to portray their issues from the point of view of women. 90 Ml is a bold and courageous attempt by Alagiya Asura, but his intention goes in vain due to uninspiring screenplay. The bold content, double-meaning dialogues and presentation are not placement to solid content.
Indeed, the film leaves the people wondering whether feminisim is restricted to smoking, drinking, etc. Insensivite jokes fail to connect with the viewers after some time. The only plus point in the movie is Oviyaa's performance along with Simbu's songs.
Check out the Viewers' Response to 90 ML
Nettv4u: #90ML FIRST HALF: Revolves around the carefree modern day life style of teenage girls also it depicts the enthralling treatment of Friendship, Love & Emotions !! #STR 's fresh songs & BGM adds more engagement to the plot !!
Saravanan M: #90ML Kind of #LipstuckunderBurkha movie. Ladies too have a separate world!! Should respect that. So far good. First half done. @OviyaaSweetz
Rajasekar: #90ml - An interesting take on feminism, liberation, current issues of modern day young women. But the film would have worked much much better without boozing, getting high, double meaning dialogues and smoking scenes.A bold attempt which has its own share of flaws and positives.
#90ml - The trailer and sneak peek are quite misleading. The film has handled a relevant topic but my doubt is feminism all about women stands equal to men by consuming alcohol, weed and smoking cigarettes?
But as said #90ML is not about girls' fun, the director has addressed so many other issues which are quite relevant to the current generation which deserves a special mention.
Sidhu: #90ML: Half a glass. Some parts are fun, some bland. Had a great opportunity to become a crazy crime comedy, but it doesn't take the option is happy with the booze, cigs, ganja and partying. Thankfully, the comedy doesn't dive too cheap or dirty.
Editor Dinesh G: Watched #90ml Film
Overhyped & Big Disappointed For Me
Content Was Gud But Draggy Narration
Unwanted Liplocks , Alcohol / Smoking Scenes
#STR Songs & Background Music Is The Bit Relief ☺️
An Below Average Flick
Heytamilcinema: #90ML
Appreciate the idea of director @anitaudeep who want to show the freedom the women deserves in the male driven society, but it is the flawed writing and too much adult oriented screenplay that hampers the core idea. Could have toned it down easily! (2/5)
Story of how five girls go the 'Feminism' way that is packed up with over dosed adult content and glamour. No solid story that is damaged further by a directionless screenplay except for few laughs. Youngsters may find a liking, otherwise a sorry show! (2/5)
7STAR Cine Media Team: #90ML (0.5/5) "Not Only Alcohol, This Movie Is Also Injurious To Your Health"
Positives -
* #STR Cameo & Music
* Performances Of Girls
Negatives -
* WaferThin Story
* Pathetic Screenplay
* Poor Making
* Core Concept Itself Wrong (#Feminism Is Misused)
Tamilnadu Theatres Association: #Oviya outperforms in her own unique way along with other debut actresses. Major highlight of film is #STR 's music which is totally impressive. Both songs & BGMs adapts according to the mood swings of crucial scenes. Youth Audience are definite to enjoy this entertainer!
Haricharan Pudipeddi: #90ML is fun in parts. I really hoped it would be a localised version or as fans would call it a 'thara local' version of Veere Di Wedding, but it's everything else than that. A film that flaunts the feminism card needlessly for all the wrong reasons.
KollyEmpire: - No story, full girls show with high dose of 18+ content.
- Clueless screenplay, good at few places. Interval block & few scenes in 2nd half gud.
- STR music & cameo nothing to remember type.
- Oviya bold & beautiful, okay performance.
Disappointing!(1.75/5)