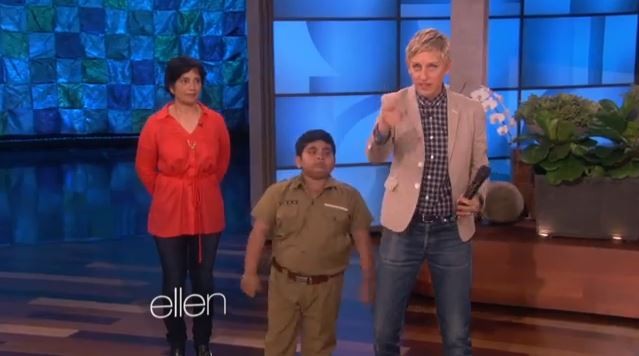 The "India's Got Talent" semi-finalist Akshat Singh made it big when he appeared on Ellen DeGeneres's show.
Akshat's dance on Salman Khan's songs made him popular not only in India, but also in the US. After CNN and Good Morning America, Akshat managed to capture the attention of popular talk show host Ellen.
After watching his dance during the audition round of "India's Got Talent", Ellen invited Akshat to appear on her show.
The eight-year-old, who is from Kolkata, visited US for the first time to appear on "The Ellen DeGeneres Show".
Akshat, who is probably the first Indian non-celebrity kid to appear on the show, made a grand entry wearing a policeman's uniform and riding a small police bike.
Akshat is a stanuch Salman fan and he impressed everyone with his dance act imitating the "Dabangg" star. However, he was unable to perform on Salman's songs at the Ellen's show because they could not get permission to use the songs.
As soon as the music began, the eight-year-old flipped and did his signature pelvic-thrusting dance.
By the time Akshat finished dancing, the audience was clapping and cheering loudly. He even got a standing ovation from the audiences and the show host for his act.
Later, the show host hugged him and greeted him in Hindi. "Namaste, mera naam Ellen hai" (Hello, my name is Ellen), she told Akshat.
"This is really amazing and thanks for being here," she said, to which the eight-year-old replied saying "Thank you for calling me here."
When she asked him whether he would win the reality show in India, Akshat replied, "I've gone to 'India's Got Talent' only to show my talent that 'motu' (fat people) can also dance."
At the end of the show, Ellen gifted him a small bike with his name written on number plate.
Check out the video here: