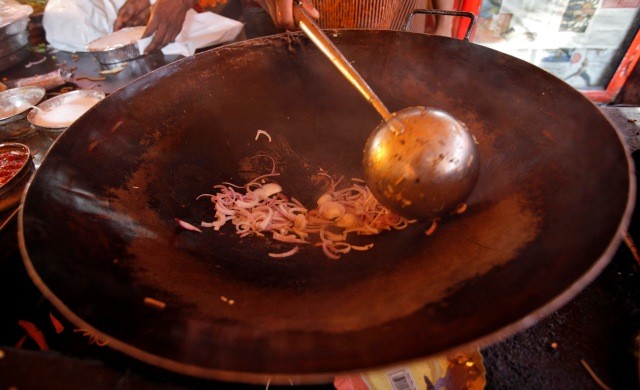 The food provided in posh restaurants in Bangalore (Bengaluru) is not always the best you can get, proves a recent Facebook post by the Joint Commissioner of Health. The official has posted some shocking details of unhygienic conditions in the kitchens of many restaurants in the city.
The Bruhat Bangalore Mahanagara Palike (BBMP) authorities, along with Additional Commissioner (East) Yatish, health officers, Pollution Control Board officers and the police, inspected a few restaurants on Lavelle Road on Saturday, Aug. 20. Eight of them were found to be unsanitary even as the dining area was absolutely clean.
Sarfaraz Khan, the Joint commissioner of Health, told International Business Times India that the team visited the restaurants SodaBottleOpenerWalla, Fisherman's Warf, The Biere Club, Bootlegger, Sunny's, The Glass House, Smoke House Deli and Farzi Cafe on Lavelle Road. "A hefty fine of Rs. 16 lakh has been imposed for the unhygienic conditions in the kitchens of these restaurants," he added.
It was really sad to see that hygiene in the kitchen was bad, the dinning area is extremely clean, but the most impo thing place were we prepare food must be absolutely clean, this hotels charge bomb for a meal, they should also have the commitment to give clean food to its customers. Things we observed was kabab skewers are kept were the employees wash there hands and all that calls on the kabab, one guy is using rusted knife, the other one was marinating meat in his backyard were his employees wash themselves, the meat is not kept separate, lamb, beef, pork or chicken, Almighty knows what the serve us [sic]," reads the Facebook post on the Joint Commissioner JC Yelhanka page.
The Joint Commissioner also mentioned that loud music was being played at many restaurants, prompting complaints being raised by people in the neighbourhood. A strict action has also been taken against the restaurants for selling and displaying cigarettes.
Cigarettes cannot be sold in this restaurants or displayed, they were doing both. Hotels Jam packed, over crowded, taking more than there capacity. We fined them heavily, one kitchen is closed for three days. Plastic was used but in reduced quantity, they were booked for that also. [sic]"
Sarfaraz has also directed officers to conduct regular inspections at the hotels and restaurants in Bengaluru.
-