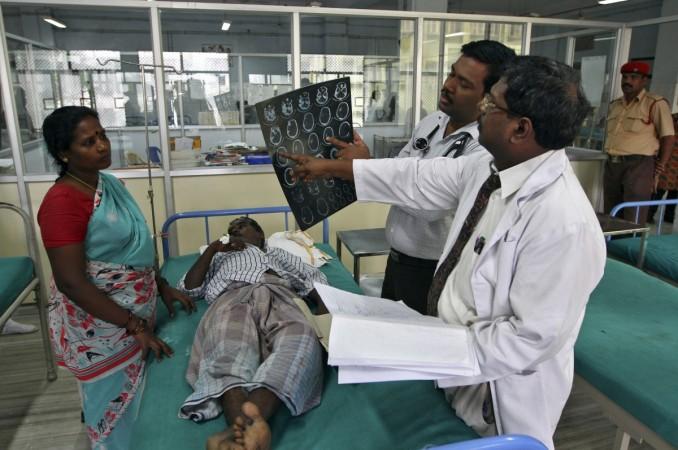 The 7th Central Pay Commission (CPC) recommendations for government doctors could undergo an upward revision after the "assurance" apparently given by Finance Minister Arun Jaitley to a delegation that met him in this regard.
The doctors representing the Federation of Resident Doctors Association (FORDA) and JACSDO (Joint Action Council of Service Doctor Organisation) had a meeting with Jaitley earlier this week.
"He was appraised especially for NPA (non practising allowance) issue. He showed his concern about our salary being relatively reduced by 7 CPC," PTI quoted from a FORDA statement issued on Tuesday.
"When the 7th CPC was constituted we doctors were very hopeful that our demands will be looked after, which is increasing Non-Practising Allowance (NPA) to 40 per cent from existent 25 per cent, instead it has been reduced to 20 per cent," the agency quoted Dr Pankaj Solanki, FORDA president, as saying.
It seems that the doctors got a positive response from Jaitley.
"He also assured, if any concern still remains pending in the matter of NPA (and other issues), it shall be scrutinised and considered by forthcoming 'Anomalies Committee' which shall be appointed hereafter," the FORDA said in its statement on Tuesday.
FORDA represents about 15,000 resident doctors working in 40 government hospitals, while JACSDO represents 11 doctors working under Central Health Services (CHS), Indian Railway Medical Services (IRMS), Indian Ordinance Health Services (IOHS), MCD, NDMC, Delhi administration and ESIC.
The meeting came after representatives of the two associations met with Health Minister JP Nadda earlier this month to convey their grouse over pay-related issues arising out of the pay panel's recommendations.
It has already been reported that about 47 lakh Central government employees and 52 lakh pensioners could get more than what the pay commission had recommended in its report submitted last November to the Narendra Modi government.
The 7th CPC had recommended a minimum monthly basic salary of Rs. 18,000 and maximum Rs. 2,50,000. A 30 percent increase would translate into a minimum salary of Rs. 23,400 and maximum at Rs. 3,25,000, respectively.
Government doctors had handed over a list of demands when they met Nadda on June 2. These include:
There should be parity with autonomous institutes like AIIMS, PGIs and public sector undertaking' for research allowances and medical education up-gradation allowance.
Enhance Non Practicing Allowance to 40 per cent of basic pay and restore its status vis-Ã -vis basic pay for all purpose, including computation of HRA and pensionary benefits.
Rename NPA as Doctor's Service Pay as its current nomenclature is misleading about its status as a part of basic pay.
The current guidelines provide for of the pay of Doctors to that below the Cabinet Secretary's pay which is restrictive and infringes upon the rightful and meritorious entitlement of the doctors.
Expedite the creation of a dedicated Indian Medical Services (IMS) Cadre. Until such time, safeguard the dignity of Medical services by providing equated access to the entitlements of Class 1 & above Officers as provided for in other All India Services i.e. Promotions/Perks/Protocol.
Minimum Allowance up to Rs. 1 lac may be paid to attend conferences and other CME's in a financial year. There should be 'parity with autonomous institutes like AIIMSs, PGIs and Public Sector undertaking' for research allowances and medical education up-gradation allowance.