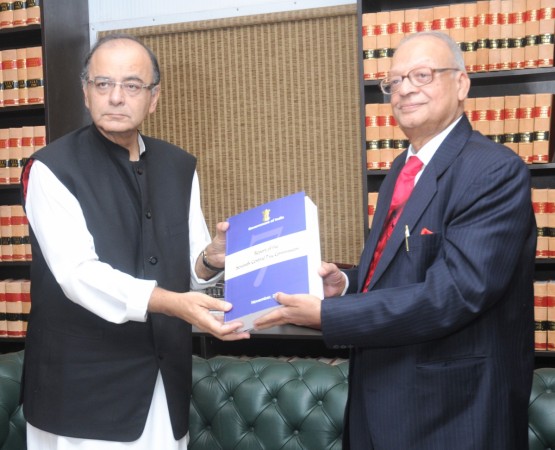 As Indian government gave a green signal to hike its federal employees' monthly emoluments, the cost to the exchequer is estimated to be approximately Rs.1.02 trillion, or 0.7 percent of the GDP, for the financial year 2016-17.
With 47 lakh central government employees getting a 23.55 percent hike and another 58 lakh pensioners witnessing a 24 percent increase, disposable income of such families is expected to shoot up.
State governments are expected to soon toe the line, in turn increasing their employees' pay packages. This is poised to boost the consumption-led economic growth. It might also add to the inflation, and more worse, create an inflation expectation, warn analysts.
The Hindu, in an earlier editorial, had warned the payouts could "fuel price pressures at the retail level and could complicate the Reserve Bank of India's inflation targeting agenda and monetary policy calculus."
The RBI's second bi-monthly monetary policy review in June said its policy stance and rationale was hinged on how inflation pans out as a consequence of monsoonal coverage and intensity. With the April figures indicating a rise in inflation, the central bank had noted the upside risks remain with indications of normalising commodity prices (especially oil) and a roll out of 7th Central Pay Commission (CPC), which "will impart an upside to the baseline through direct and indirect effects," it noted.
In its biannual Financial Stability Report on Tuesday, the RBI warned that with signs of stabilising oil prices, "there may not be any room for complacency in the current global scenario" as far as India bolstering its economy is concerned. It warned oil alone cannot insulate Indian economy.
Fitch Ratings and Citigroup had said in different notes last year that the target of containing the fiscal deficit to 3.5 percent of GDP for fiscal 2017 might become even more challenging after the 7th CPC recommendation were implemented.
Economic Affairs Secretary Shaktikanta Das told PTI on the backdrop of the report being made public in November that "...this was something which was expected... government always has broad estimation of what is going to be the impact of a new pay commission recommendation and accordingly internally a kind of risk matrix is prepared."
Adi Godrej, chairman of the diversified Godrej Group, said the implementation of the pay panel's proposals, along with a good monsoon and the Goods and Services (GST) Bill, could lift economic growth exponentially. "I am looking at an acceleration of growth rate by five percent points...," he added on Tuesday as a consequence of all these coming true.
Finance Minister Arun Jaitley in a tweet on Wednesday said the development was a "historic rise" in employee emoluments through the 7th CPC.