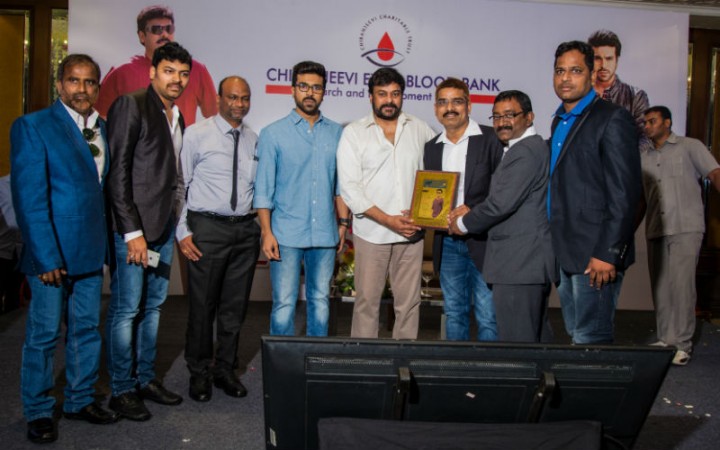 Over 76,000 mega family fans donated blood on the occasion of mega power star Ram Charan's 31st birthday. His father megastar Chiranjeevi, who is thrilled by the massive initiative, has thanked the fans. (Click here to see photos of this event)
Ram Charan, who turned 31 March 27, celebrated his birthday with his family members at the family's farm house in Devanahalli Bangalore. Like every year, his fans conducted several charity events on this occasion. But this year's blood donation camp was different and never-seen-before in the history of Telugu cinema.
Fans across the globe organised blood donation camps in different parts of the world on Ram Charan's birthday. They reportedly organised 250 camps on the day and over 76,000 people from different walks of life visited these booths and donated blood for a cause.
Chiranjeevi is awestruck by this massive initiative and along with his son Ram Charan, he met and greeted the blood donors and organisers of these blood donation camps, which has been declared a massive success.
Ram Charan and Chirenjeevi held a function at Taj Krishna to express their gratitude to everyone responsible for the giant success of the drive. They honoured the donors and organisers of the camps with mementos and gifts for their contributions. Some fans shared their experience of being part of the noble cause on this occasion.
An elated Ram Charan addressed the fans and praised everyone for making his 31st birthday the best ever and an unforgettable one. He said that there cannot be a better gift than bringing a positive change in the lives of so many. He added that he wants to interact with the fans, which makes him happy.
Ram Charan launched the Chirenjeevi Blood Bank (CBB) Donor App at the event and introduced its features and benefits to the people. The app sports options like: donor search, list of blood banks and access to donor data. It allows the users to create a blood request and those with a matching blood group will receive a notification for action. It syncs the phone and facebook contacts to help the users understand the blood group of each of their friends.
A few days before the blood donation drive, Chirenjeevi had thanked his fans for the initiative. "My aim was to witness a time, where lack of blood was no longer a reason for one's death. I convey my heartiest thanks to my fans and all the supporters who have been consistently working hard to help me realise this dream," the megastar stated.