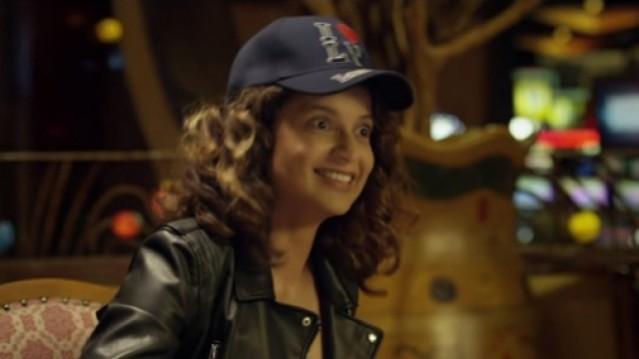 It looks like the nepotism debate and Hrithik Roshan-Kangana Ranaut controversy is not over yet. Kangana, who is promoting her next release Simran, ignited the controversies again when she spoke about Hrithik, the legal battle and how the industry treated her in recent interviews.
Here are 7 things Kangana revealed recently.
In an interview with Rajeev Masand, Kangana said that Hrithik and his father Rakesh Roshan have not proved the existence of the imposter, who was talking to her.
"The case hasn't died down. There is a proper end to the legal battle. He claimed many things, he said there was an imposter I was communicating with but he couldn't prove it. There's a report by the Cyber Crime Cell which said his accusations were nil. He and his father claimed that they'll expose me which will shock everyone. They couldn't do anything. You can't just go on maligning someone?" she said.
When she demanded a public apology from Hrithik and Rakesh
"I am here to ask me more about it and I will simplify it because he has made circles and circles, so people don't get it. They are still confused what happened with the case. He (Hrithik Roshan) and his father (Rakesh Roshan) have made fools of themselves, they should apologise to me in public. Even if they don't want to apologise it is okay, but I will clarify to the world what happened to the case."
In an interview with Rajat Sharma for his show Aap Ki Adalat, Kangana said that she loved him, but what he did to her is like going through a second death.
"I actually loved that person. From 'shayarai' to 'nazms', I did everything that anybody does for a lover. He put everything out in open for the world. It's like a second death when you go through this."
When she revealed that he prepped to send her behind the bars for two years.
"I didn't know I was such a part of a big scam, he preps for two years to put me behind bars for having an affair with him. His father claimed he would expose me, I didn't know what is all there for him to expose, of course, all of them is going to be a lie, but still I didn't know. So I needed all this to cool off and see what the consequences are.What is the aftermath of the whole case?"
When people from the industry asked Kangana and her sister to apologise to the Roshan family
She also revealed that she was scared and industry people asked her and her sister to hide.
"These are big people, they have lots of money. All kinds of threat were there. People from the industry called me to their houses and threatned me saying that they will put in jail, say sorry to them.
"Journalists would call my sister and say that 'you know your sister is not safe, put her in a safe place.' We used to get threatened. Of course , was scared for my life, who would't be? There are so many things that happen around you when extramarital affairs are spoken about."
"Scared" Kangana talks about a Malayalam actress' abduction case and how she is worried about her life.
"There are so many things that happen in extramarital things really. Look at what happened in the Malayalam (actress) case. What that man did to her for a complaint to his wife. He got her raped, got her videos circulated. Of course, all of these happened after my case. But you now girls get pregnant, they get shot, they get killed for things like these. So I was scared and of course, I feared for my life."
When Hrithik said he does not know her
Talking about working with him for seven years, Kangana said that if he knew that she has mental problems then why take her in two movies.
"I want to have this conversation with him, but he is not meeting me. I can walk with my head held high, why is he hiding from me? He's not talking about this issue, when he had to send this notice, where was his dignity then?
"You work with someone for seven years, in two films, how can you say you don't know each other? You have been rolling on the floor, dancing in her birthday parties. If he says that I have some (mental) problems, so why would you repeat me in your own production? These are the questions he should be answering. But I'm going to go out there and expose these things so that girls are not taken for a ride."
Watch the interview below