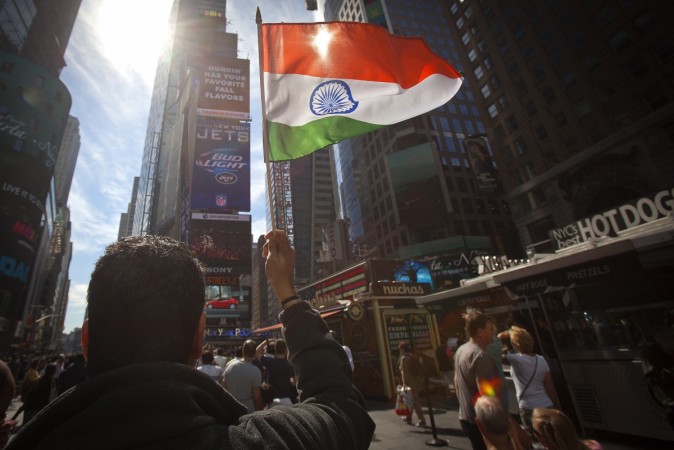 Come Saturday the world's largest democracy will observe its 69th Independence Day. India, which attained Independence from the British rule on 15 August 1947, celebrates the day by unfurling the tricolour and paying tributes to its freedom fighters.
Independence Day 2015 Celebrations in Pictures
The main function of Independence Day is held at the Red Fort in New Delhi, where prime minister hoists the national flag and addresses the nation. Narendra Modi will hoist the tricolour for the second time this year as the prime minister.
Best Patriotic Messages, Greetings to be Shared on Facebook, Twitter, WhatsApp
Check out some quotes by famous personalities who have shared their thoughts about India and its independence below:
So long as you do not achieve social liberty, whatever freedom is provided by the law is of no avail to you. - BR Ambedkar.
We owe a lot to the Indians, who taught us how to count, without which no worthwhile scientific discovery could have been made! -- Albert Einstein, German-born theoretical physicist.
For some days, people thought that India was shaking. But there are always tremors when a great tree falls. -- Rajiv Gandhi

A Capella Versions of Vande Mataram Go Viral
Even if I died in the service of the nation, I would be proud of it. Every drop of my blood... will contribute to the growth of this nation and to make it strong and dynamic. -- Indira Gandhi

A nation's culture resides in the hearts and in the soul of its people. -- Mahatma Gandhi
Where the mind is without fear and the head is held high;
Where knowledge is free;
Where the world has not been broken up into fragments by domestic walls;
Where words come out from the depth of truth;
Where tireless striving stretches its arms towards perfection;
Where the clear stream of reason has not lost its way into the dreary desert sand of dead habit;
Where the mind is led forward by thee into ever-widening thought and action–
Into that heaven of freedom, my father, let my country awake. -- Rabindranath Tagore
India conquered and dominated China culturally for 20 centuries without ever having to send a single soldier across her border!
-- Hu Shih, former Ambassador of China to USA
He that would make his own liberty secure, must guard even his enemy from opposition; for if he violates this duty he establishes a precedent that will reach himself. -- Thomas Paine, English-American political activist
You give me your blood and I will give you Independence! -- Netaji Subhas Chandra Bose
India is the cradle of the human race, the birthplace of human speech, the mother of history, the grandmother of legend, and the great-grandmother of tradition. Our most valuable and most instructive materials in the history of man are treasured up in India only. -- Mark Twain, American author
If there is one place on the face of earth where all the dreams of living men have found a home from the very earliest days when man began the dream of existence, it is India. -- Romain Rolland, French Nobel laureate
India — the land of Vedas, the remarkable works contain not only religious ideas for a perfect life, but also facts which science has proved true. Electricity, radium, electronics, airship, all were known to the seers who founded the Vedas. -- Ella Wheeler Wilcox, American author and poet