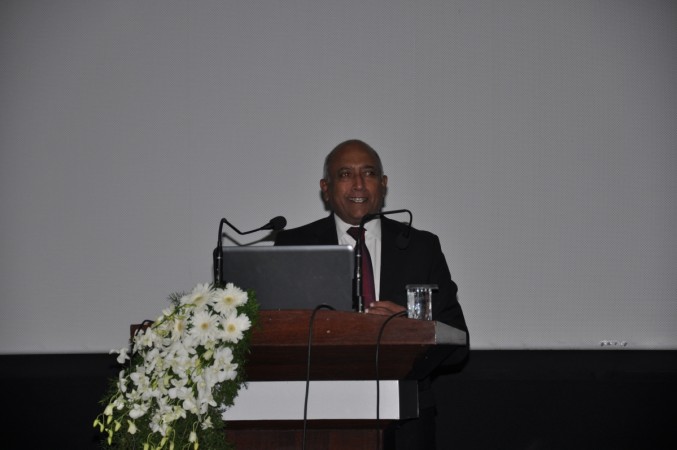 Even at the age of 65, the first Indian to travel to space -- Cosmonaut Wing Commander Rakesh Sharma (Retd) -- is ready for another rendezvous with the space, if given a chance.
Speaking at an event organised by the IAF Training Command in Bangalore, Rakesh Sharma said that India has made considerable progress in space exploration.
He lauded the country's efforts in space exploration such as Moon and Mars missions, and satellite launches. He said he was thrilled that India is preparing itself for manned space missions to the Moon.
There will be a time in the future when space will be our new home, he said. "We first target Moon and later Mars," Sharma said. Rakesh Sharma, who became the first Indian to travel to space noted that age is no bar for space explorations. He said, "if opportunity is given, even I wish to go to space once again."
In his speech, he highlighted that India must do more to explore the space to 'secure our future.' Sharma, who joined as an Air Force cadet in NDA in 1966, said that as an ace IAF test pilot, he was given the opportunity to go through a rigorous selection and training process before being selected among hundreds to go to space along with two other cosmonauts of the Soviet Union.
Sharma was at the IAF HQ in Bangalore as part of the IAF's special interactive session with young children. He also met students of Classes XI and XII of Air Force School, Hebbal, Air Force School, ASTE, Vimanpura and Kendriya Vidyalaya Hebbal.
Sharma, who hails from Patiala in Punjab, became a Fighter Pilot for IAF in 1970 after his training at the National Defence Academy (NDA).
During the Indo-Pak war in 1971, he flew 21 operational Missions on MiG -21 aircraft.
He was selected on 20 September 1982 to become a cosmonaut and was trained for 18 months before he flew aboard the Russian rocket Soyuz T-or11 on 2 April 1984 to become the first Indian to go to space.
On returning from space, he was conferred by the 'Ashok Chakra', the highest gallantly award during peace time by the Indian Govt and 'The Hero of the Soviet Union' by Soviet Union Govt.