#KanganaRanaut wins the Best Actress Award at the @filmfare Awards! RT if you loved her acting in the movie QUEEN.

— Sony TV (@SonyTV) February 8, 2015
Congratulations to @shahidkapoor on winning the Best Actor Award for 'Haider' at the @filmfare awards! #FilmfareAt8 pic.twitter.com/zToaPgIvrn — Sony TV (@SonyTV) February 8, 2015
Congratulations to the talented @aliaa08 for winning the Best Actress ( Critic ) Award at the @filmfare Awards! pic.twitter.com/3u2U0amPfW

— Sony TV (@SonyTV) February 8, 2015
.@BeingSalmanKhan and @deepikapadukone perform a romantic act together on @filmfare awards! RT if you enjoyed it. pic.twitter.com/QGYPQ5pvH4

— Sony TV (@SonyTV) February 8, 2015
Superstar @BeingSalmanKhan does the @iamsrk step at the @filmfare Awards! Did you enjoy watching it? #FilmfareAt8 #FilmfareWithSalman — Sony TV (@SonyTV) February 8, 2015
Superstar @BeingSalmanKhan does the @iamsrk step at the @filmfare Awards! Did you enjoy watching it? #FilmfareAt8 #FilmfareWithSalman

— Sony TV (@SonyTV) February 8, 2015
Congratulations to #Tabu on winning the Best Supporting Actress for Haider! RT if you loved her acting! #FilmfareAt8 pic.twitter.com/qA1LLl5mRY

— Sony TV (@SonyTV) February 8, 2015
.@aliaa08, @KapilSharmaK9 & @karanjohar on ONE stage! RT if you're enjoying the act. @filmfare Awards #FilmfareAt8 pic.twitter.com/YvsGblUDEH — Sony TV (@SonyTV) February 8, 2015
@sonytv #FilmfareAwards2015 #FilmfareAwardsWithSalman @BeingSalmanKhan being the boss! pic.twitter.com/nRbs0fC3fS

— Rohit RK (@rohitcr2k) February 8, 2015
Superstar @BeingSalmanKhan is FINALLY here! RT if you're enjoying his performance #FilmfareAt8 #FilmfareWithSalman pic.twitter.com/75QVgpXI9j

— Sony TV (@SonyTV) February 8, 2015
.@KapilSharmaK9 sings a song for the beautiful #Rekha! Did you enjoy his performance? @filmfare Awards #FilmfareAt8 #FilmfareWithSalman — Sony TV (@SonyTV) February 8, 2015
@sonytv #FilmfareAwards2015 THIS SEGMENT IS AWESOME! pic.twitter.com/NpK9bMYWAp

— Rohit RK (@rohitcr2k) February 8, 2015
@sonytv #FilmfareAwards2015 PK winning awards.... pic.twitter.com/4eLMnHF97I — Rohit RK (@rohitcr2k) February 8, 2015
@sonytv #FilmfareAwards2015 "KITNE AADMI THE?" - @karanjohar drops the line of the night so far! pic.twitter.com/3NT2hNC6Mf

— Rohit RK (@rohitcr2k) February 8, 2015
@sonytv #FilmfareAwards2015 Best debut director - Abhishek Verman! pic.twitter.com/ndwDSSKfPk — Rohit RK (@rohitcr2k) February 8, 2015
The Best Debut ( Male ) goes to @_fawadakhan_ ! Congratulations to the talented actor :) #FilmfareAt8 pic.twitter.com/AyVPqkFjjh

— Sony TV (@SonyTV) February 8, 2015
@sonytv #FilmfareAwards2015 WE LOVE YOU MA'AM! pic.twitter.com/86f2SeMiN0 — Rohit RK (@rohitcr2k) February 8, 2015
@sonytv #FilmfareAwards2015 @kritisanon - Best Female Debut! @aliaa08 performance! pic.twitter.com/IIyZWSF1Qk

— Rohit RK (@rohitcr2k) February 8, 2015
@sonytv #FilmfareAwards2015 @aliaa08 killing it1 pic.twitter.com/L1P5tcrkwo — Rohit RK (@rohitcr2k) February 8, 2015
.@aliaa08 pays tribute to all the women at the @filmfare Awards! Which song did you enjoy the most? #FilmfareAt8 pic.twitter.com/IMBmsk7buJ

— Sony TV (@SonyTV) February 8, 2015
.@aliaa08 is here to hit the dance floor! RT if you are loving her performance. #FilmfareAt8 #FilmfareWithSalman pic.twitter.com/RFPgfgm0ey — Sony TV (@SonyTV) February 8, 2015
.@kritisanon bags the Best Debut Actress at the @filmfare Awards! RT if you think she deserved it. #FilmfareAt8 pic.twitter.com/jrpAY34NL4

— Sony TV (@SonyTV) February 8, 2015
@sonytv #FilmfareAwards2015 Ankit Tiwary wins it! Best Singer! Best Lyrics - Rashmi Singh ji! @NargisFakhri GR8! pic.twitter.com/G8mxgfIepl — Rohit RK (@rohitcr2k) February 8, 2015
@sonytv #FilmfareAwards2015 Ahmed Khan won best choreography! Deserving winner! #FilmfareAwardsWithSalman pic.twitter.com/ddCrE8xem5

— Rohit RK (@rohitcr2k) February 8, 2015
@sonytv #FilmfareAwards2015 Kanika Kapoor wins the award for #BabyDoll! Truly deserving! Smooth voice.... pic.twitter.com/lJhroomZMW — Rohit RK (@rohitcr2k) February 8, 2015
.@TheKanikakapoor gets the Best Playback singer (Female) award for Baby Doll! RT if you love this song! #FilmfareAt8 pic.twitter.com/sqnWkmHCcN

— Sony TV (@SonyTV) February 8, 2015
@sonytv #FilmfareAwards2015 @Varun_dvn definitely stole the show! pic.twitter.com/5TanJ6xUOd — Rohit RK (@rohitcr2k) February 8, 2015
@sonytv #FilmfareAwards2015 @Varun_Dvn it's VD time! pic.twitter.com/Lzg0D0mGQS

— Rohit RK (@rohitcr2k) February 8, 2015
.@Varun_dvn just did a GOVINDA act! Did you enjoy his perfomance? RT if you found it entertaining! #FilmfareAt8 pic.twitter.com/sWYPFwDUd3 — Sony TV (@SonyTV) February 8, 2015
.@Varun_dvn is here to entertain you! RT if you're enjoying his performance at the @filmfare awards! #FilmfareAt8 pic.twitter.com/kfTqHrDsqw

— Sony TV (@SonyTV) February 8, 2015
@sonytv #FilmfareAwards2015 @ShraddhaKapoor giving tough comepetition to @arjun26! pic.twitter.com/lL1JkaEk9R

— Rohit RK (@rohitcr2k) February 8, 2015
@sonytv #FilmfareAwards2015 Shraddha rocking ! pic.twitter.com/hl4fS1MqY3 — Rohit RK (@rohitcr2k) February 8, 2015
.@ShraddhaKapoor gave an excellent performance at the @filmfare Awards! Which song you enjoy the most? #FilmfareAt8 pic.twitter.com/kV24Fgtidd

— Sony TV (@SonyTV) February 8, 2015
Are you enjoying @ShraddhaKapoor's performance at the @filmfare Awards? RT if you are! #FilmfareAt8 pic.twitter.com/RC0z7qeBcB — Sony TV (@SonyTV) February 8, 2015
The gorgeous @ShraddhaKapoor is here to sizzle the dance floor! @filmfare Awards #FilmfareAt8 #FilmfareWithSalman pic.twitter.com/gdUz90SFu6

— Sony TV (@SonyTV) February 8, 2015
@sonytv #FilmfareAwards @arjun26 simply stealing the show! pic.twitter.com/ROSIwjoCcO — Rohit RK (@rohitcr2k) February 8, 2015
.@ArjunKapoorFB pays tribute to the superstar @BeingSalmanKhan! Are you enjoying his performance? #FilmfareAt8 pic.twitter.com/pyG7HoNELJ

— Sony TV (@SonyTV) February 8, 2015
.@ArjunKapoorFB aa gaye hai apna TEVAR dikhaane @filmfare Awards mein! RT if you're a fan. #FilmfareAt8 pic.twitter.com/zFTyBfAG6G — Sony TV (@SonyTV) February 8, 2015
@sonytv #FilmfareAwards pic.twitter.com/y68hfWhlTW

— Rohit RK (@rohitcr2k) February 8, 2015
Do watch Ranbir's Red Carpet Moment and his performance on #FilmfareAwards2015 from 7pm Onwards on @sonytv tonight. ☺ pic.twitter.com/2f5Fh5Lak9 — Ranbir's Aditi ♥ (@cute__aditi) February 8, 2015
The winners list of 60th Britannia Filmfare Awards 2014 was announced at a colourful event on January 31, 2015 in Mumbai. The grand and glitzy function is being aired live on Sony TV.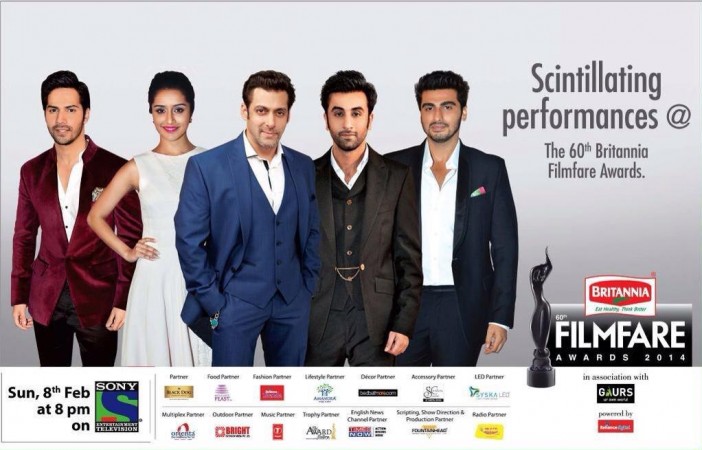 The Filmfare Awards are presented annually by The Times Group and the awards were first introduced in 1954, the same year as the National Film Awards. The Filmfare ceremony, which is of the oldest and most prominent film events in India, is meant to honour both artistic and technical excellence of professionals in the Hindi film industry.
This year's ceremony was one of the most colourful awards ceremonies of the year. Many leading actors, actresses, directors, producers and technicians walked the red carpet. The awards were given away amidst sterling dance performance by several popular actors and actresses on the occasion.
We bring you the photos featuring celebrities receiving awards and their dance performances. Continue to see the live update of 60th Britannia Filmfare Awards 2014.