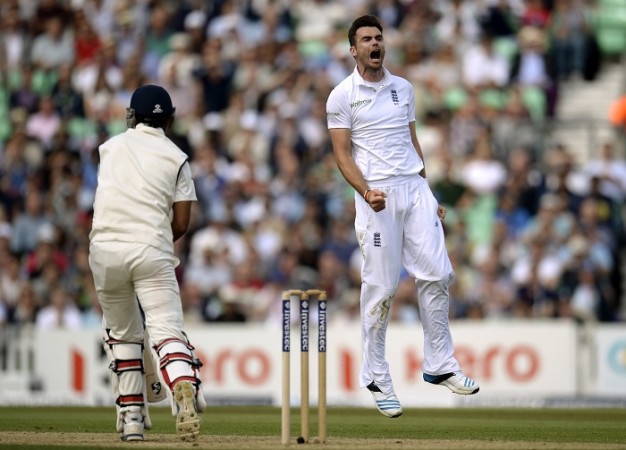 Losing a Test match, or even a series, with a fight is not a problem; but losing a Test match, and the series, with the words fight, gumption, compete and desire not even remotely in the vicinity is plain and simply pathetic.
In another exemplary display of ridiculously poor batting, India capitulated quicker than a sand castle in heavy rain to surrender the fifth Test match to a gleeful cannot-believe-we-won-it-so-unbelievably-easily England by an innings and 244 runs and with it the Test series 3-1.
A loss always looked probable after England dominated days one and two of the fifth Test at The Oval, and all the India fans could ask really was some fight from their players; but instead what followed was another wicket-train, after England had piled on the runs, with India finishing their second innings on an embarrassing 94 runs, after their capitulation in the first innings which saw them score only 148.
James Anderson (8-3-16-2) showed his prowess with the moving ball again, justifying Alastair Cook's tag as the world's most skilful bowler – hard to judge properly of course, considering the opposition – while Chris Jordan (4.2-0-18-4), Stuart Broad (10-2-22-1) and Chris Woakes (7-0-24-1) all joined the party as well to hand India a massive defeat, after their batsmen, and some of the bowlers, had given them a huge lead to play with, with England finishing their first innings on 486, courtesy a sparkling hundred from Joe India-series-please-don't-end Root.
The pitiful wicket-train started in the fifth over of the innings as Murali Vijay (2, 16b) was trapped in front by Anderson by a peach of an in-swinger. With rain looming large, Gautam Gambhir (3, 19b) decided he did not fancy waiting around in his pads in the dressing room and duly ran himself out, before England took complete charge after a near two-hour rain delay.
Cheteshwar Pujara's nightmare England tour ended in misery as Anderson bowled that perfect delivery outside off to induce the edge, with Ajinkya Rahane (4, 15b,), one of the few bright spots of this tour, joining his fellow right-hander as Broad picked up his first wicket of the innings – no prizes for guessing how.
MS Dhoni, who has batted as well as anyone on this tour, and looked capable of surviving against the moving ball, did not last too long this time, though, with the skipper, whose 82 was the main reason India even got to 148 in the first innings, inside-edging one off Woakes to Sam Robson at short leg.
Virat Kohli, the most disappointing player on this tour from India's point of view, tried to stick around, playing 53 deliveries for his 20, before that inevitable outside edge was found off a peach from Chris Jordan.
India were on 66 for six after that wicket, and R Ashwin, Bhuvneshwar Kumar and Varun Aaron could not produce a rearguard fightback either as India slumped to 84 for nine, before eventually caving in for 94 in 29.2 overs to fall to the most miserable of defeats.
Earlier, England rubbed salt into the Indian bowlers' wounds with some carefree batting as Root (149 n.o., 165b, 18x4, 1x6), Broad (37, 21b, 5x4, 1x6) and Jordan (20, 33b, 2x4) all made merry to build that huge 338-run lead, which India did not even threaten to come close to, let alone overhaul.