Three-one in the Test series and now 3-1 in the ODIs – India decided they might as well bring a bit of symmetry to the tour, losing their one-day prowess, which was on show in all its glory in the previous three matches, in Leeds to open the door for England to grasp that consolation victory and with it also avoid a clean sweep.
Joe Root, the Yorkshireman, playing at his home ground of Headingley, showed he can bat a bit in the ODI format as well, unfurling an array of sixes and fours (yes, England can score them, you know) to glide his way to a wonderful century in the 5th and final ODI against India.
The result of that brilliant hundred from England's golden boy, along with a typically brutal 49 from Jos Buttler, was the home side, finally, getting to a solid thank-the-heavens-we-did-it ODI score of 294 for seven, leaving India with plenty of work to do in the second innings.
That work from the batsmen was not on show on Friday afternoon, with India failing to get a proper partnership or individual innings from their willow-wielders, allowing the England bowlers to take a stranglehold without an escape clause.
India eventually finished on a below-par 253 all out in 48.4 overs, with only Ravindra Jadeja putting up a real fight with the bat -- not even remotely enough when you are chasing a total of nearly-300.
India's chase began in the worst possible fashion, with Ajinkya Rahane falling in just the third ball of the innings, looping a catch straight to point off James Anderson.
It did not get any better for India, either, as Virat Kohli (13, 21b, 2x4), having a nightmare England tour, and then some, fell to his nemesis yet again – his outside edge off the bowling of Anderson (10-0-39-2).
Those two wickets from England's main man, put India on the mat, and with the required run rate already at nearly six at the start of the innings, it just kept going up and up. And every time India tried to crank the scoring rate, they kept losing wickets.
Dhawan (31, 44b, 4x4, 1x6) was the first to fall prey to the scoreboard pressure, going for a wild swipe across the line off Moeen Ali and missing it completely to get bowled, a couple of deliveries after hitting the off-spinner for a six.
Ambati Rayudu and Suresh Raina tried to build a partnership to keep India in the hunt, but, yet again, just when they were gaining some momentum following a 42-run partnership from a little over seven overs, that wicket fell again, with Ali (8-0-34-2), who else, picking up Raina (18, 23b, 2x4).
That brought MS Dhoni to the crease and England were never going to relax and think they had the game wrapped up as long as the India skipper was in the middle. Dhoni played a typically Dhoni innings, taking the singles and twos, and allowing Rayudu, the much more set batsman to take on the aggressor's role.
However, once more, just when those boundaries were slowly starting to flow, the dismissal came, with Rayudu (53, 65b, 3x4, 2x6) throwing away his wicket off the bowling of Stokes (7-0-47-3).
That wicket put India on 132 for five in the 31st over, and even with Dhoni (29, 42b, 1x4, 1x6), it was always going to be a tall order, and so it proved to be as the captain's wicket, in the 37th over, ended all hopes of a comeback, with Jadeja's innings of 87 (68b, 9x4, 2x6) – his highest ODI score -- a mere consolation.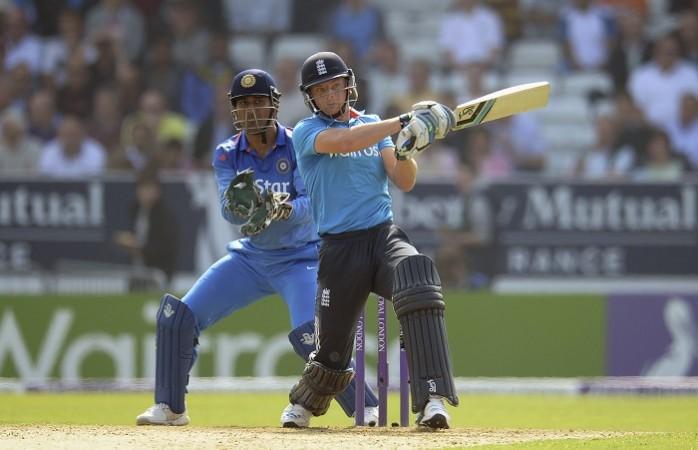 There was that "OK here we go again" feeling amongst the home support, much more in evidence in Leeds, in the first 25-30 overs of the first innings, with England looking to scratch their way to some semblance of a decent score, but struggling against the India bowlers.
Alex Hales (4, 9b), of whom so much was expected in this format, after making his ODI debut in the series, was the first to go, going for a pull shot that was never really there to Umesh Yadav, who was not exactly impressive with the white cherry after replacing Dhawal Kulkarni, and getting caught out in midwicket.
That early wicket, in the fourth over, immediately put England under pressure, but with Moeen Ali, the man who blazed to a half-century in the sooner-England-forget-it-the-better 4th ODI given a promotion in the batting order, the home side looked like they could possibly get that quick few runs at the top, especially with the pitch looking tailor-made for shot-making.
However, Ali (9, 8b, 2x4) would not last too long either, despite scoring a couple of delightful boundaries, top edging a catch to Yadav at third man off Bhuvneshwar Kumar.
With England on 39 for two after seven overs, that rebuilding mode of the innings began a touch too early one more time, with Cook and Joe Root putting on 50 runs for the third wicket in the next 13 overs.
Cook (46, 64b, 6x4) fell off the last delivery of the 20th over, top-edging a sweep attempt off the bowling of Ravindra Jadeja, before Eoin Morgan's (14, 34b, 1x4) underwhelming series continued, leaving England on an another-wicket-here-and-we-are-in-deep-trouble 117 for four in 29 overs.
Buttler is made for limited-overs cricket, though, and with the level-headed Root at the other end, hope sprung eternal for England. That hope only increased when the duo waited until they had to take the mandatory batting Powerplay in the 35th over, before cutting loose in splendid style.
England's wicketkeeper/batsman began the onslaught with a four and a six off Yadav, with the right-hander also not sparing the spinners, who for once failed to take full advantage of a wicket that was giving some turn.
Root joined in as well, getting that slog-sweep out of his locker as England finally took some kind of charge in the ODI series, with the duo's 108-run partnership from 81 balls, the biggest by England in this series by some distance.
A total of 55 runs came in the Powerplay, but it would mean little if they did not continue the momentum, which threatened to come to an abrupt end as Buttler (49, 40b, 5x4, 2x6) ran himself out, going for a run that was never there without realising the ball was right next to Dhoni.
England needn't have worried too much, though, as Root took over, pasting Jadeja for 17 runs in the 45th over to storm his way to a hundred. Root (113, 108b, 10x4, 3x6) fell in the next over, but Ben Stokes (33 n.o., 23b, 3x4, 2x6), in for Gary Ballance, and James Tredwell ensured England would get to a score of note, despite the best efforts of Mohammed Shami, a score which eased the home team to victory.