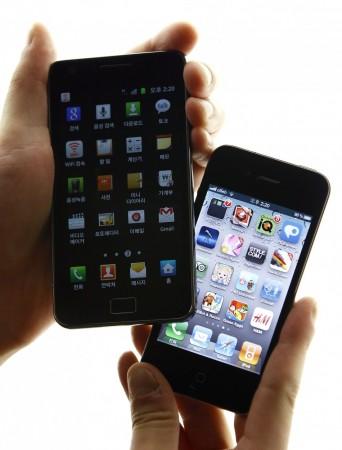 Samsung overtook Apple as the world's largest smartphone seller last quarter. It is second only to Nokia in sales of smartphones in India.
Apple's iPhone 4S was launched in India with much fanfare in November, but reports say the Samsung Galaxy S II is way ahead when it comes to sales. It looks like Apple will not be able to break Samsung's hold in India, at least for a while, owing to various reasons.
Samsung's Galaxy has the advantage over Apple's iPhone in India for the following reasons:
1) Samsung Galaxy phones are cheaper than iPhones. India's middle-class population may opt for relatively cheaper phones. Samsung Galaxy 30 percent to 40 percent cheaper than Apple iPhone. Only rich people can afford the latter.
2) Samsung is already a household name in the country while Apple entered India's market only last month. People are likely to go for a brand that is already tested.
3) The present economic scenario of the country favors Samsung. With the Indian rupee hitting all-time lows, people may opt for cheaper smartphones.
4) Apple's failure to get a ban on the sales of Samsung in countries like the United States, France and Australia has in a way enhanced the image of Samsung besides giving positive publicity. Indeed, it was a blessging in disguise for Galaxy series.
5) Slow economic growth in India and fear of another slowdown might make the Indian middle-class population more cautious. Consistent inflation in the country could hamper iPhone sales.