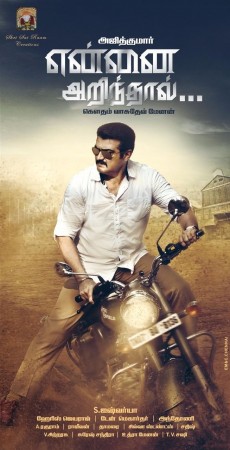 The release of "Yennai Arindhaal" is only a few days away. The movie is scheduled to hit the theatres by 5 February stars Ajith and Trisha in the lead roles and is one of the highly anticipated movies of 2015.
From Gautham's directorial to Ajith's looks, the South film industry and fans are abuzz with each and every detail of this big budget movie.
"Yennai Arindhaal" is Gautham Menon's biggest project till date and here are five reasons why this romantic thriller is the most-awaited film of the year and why everyone should watch this Ajith starrer.
Ajith
First reason why anyone shouldn't miss "Yennai Arindhaal" is Ajith. The movie - as the trailer, teaser and the posters suggest - is all about the character Sathyadev, played by "Thala". The makers have assured that the film will be a treat for Ajith fans.
Although the film has a character-driven plot, the makers have assured that it will be equally entertaining with appropriate commercial elements. Ajith will be playing the role of a highly sophisticated gentleman cop with a mass appeal.
Ajith will be spotted in four different looks, which have already become a sensation among fans.
Direction by Gautham Vasudev Menon
We all know Gautham Menon is a great director. All movies previously directed by him speaks volumes about his upcoming project and his capability as a filmmaker.
Films like "Minnale", "Kaakha Kaakha", "Vettaiyadu Vilaiyaadu", "Vaaranam Aayiram" and "Vinnaithaandi Varuvaaya" reflect his versatility. This time, along with Ajith, the director has made a movie with elements of action, romance as well as family drama.
Made with a budget of Rs 50 crore, "Yennai Arindhaal" is the most expensive and Gautham's biggest film till date.
Character Driven Plot and Script
"Yennai Arindhaal" is a script-driven movie for Ajith after a long time. The plot of the movie is very interesting, it narrates the story of a 13-year-old boy till he reached the age of 38 years and how he strives hard to fulfil his mother's wish.
The director said that Ajith's character along with the storyline will explore new dimesions and will hence provide a new experience in watching film.
Strong Female Characters
Like other Gautham Menon movies, audience can expect strong female characters in this film too. Like his characters Reena Joseph (Reema Sen) in "Minnale", Maya Anbuchelvan (Jyothika) in "Kaakha Kaakha", Aradhana (Jyothika) in "Vettaiyaadu Vilaiyaadu", Jessie (Trisha Krishnan) in "Vinnaithaandi Varuvaayaa", the women in "Yennai Arindhaal" too is a crucial feature of the film's plot.
"Yennai Arindhaal" has Trishna Krishnan as Hemanika and Anushka Shetty as Thenmozhi in lead roles, opposite Ajith. The director has already revealed that the women in the film are edgy and at the same time bold.
Technical Aspects
Another aspect of any Gautham Menon movie is its technical aspect. This time, the director has roped in the best for his film. The cinematography of the film is done by Dan Macarthur and editing by Anthony.
Dan Macarthur is known for his work in Bollywood and Hollywood and his visualizing is expected to take the film to new heights and make it equally believable. With Anthony's crisp editing, the movie is expected to be highly engaging without any lag.