Kate Middleton turned heads during her recent outing when she wore a dress that looks extremely familiar. Moments after she walked out sporting a stunning white Alexander McQueen coat dress, onlookers realised it was exactly the same dress the Duchess of Cambridge wore to daughter Princess Charlotte's christening in 2015.
Previously, Prince William's wife wore the gorgeous piece of clothing in Belgium to mark the 100th anniversary of the Battle of Passchendaele. Soon, she caught the attention of fashionistas and designers across the globe who began raving about her royal style.
Also Read: Kate Middleton pregnancy: Duchess of Cambridge ruling out third baby because of Meghan Markle?
While the dress might be the same, the royal family member opted to accessorise the outfit differently. During the gathering this week, she sported a bright broach on the collar of the dress and paired it with a silver pair of pumps to add to the oomph factor.
She paired a unique hat from the collection and matched it with a small wallet. While she made the look different from her previous one, Middleton is not new to reusing clothes.
There have been ample occasions when she repeated her outfits. While Middleton repeated the outfit she wore at Princess Charlotte's christening recently, she had repeated the outfit she wore at Prince George's christening in 2016 too. Rehashing the same crème crop top and a skirt, she sported the same hat as well when she attended a garden party last year.
A notable attire she repeated was the Michael Kors Coat. Wearing the bluish-grey coat at two different occasions, she brought the peppy and the sober side of the outfit at two widely divergent situations.
Taking out the Blue Alexander Mcqueen dress coat at the 75th-anniversary celebration events for the RAF Air Cadets on Feb 7, 2016, the Duchess brought back memories from April 2014, when she wore the dress while attending a service at the War Memorial in Seymour Square in Blenheim, New Zealand.
We could go on, but we'd like you to see a few outfits that she repeated: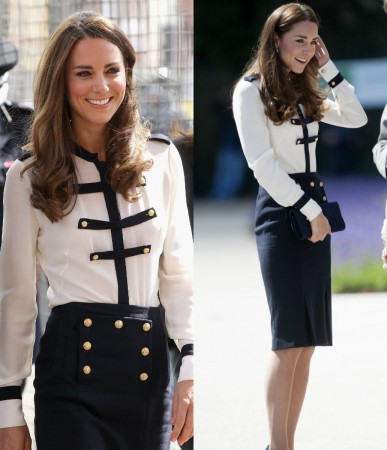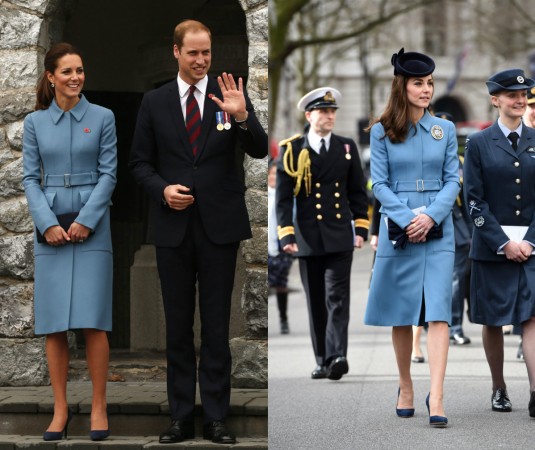 What are the other dresses that you have seen Kate repeat? Let us know in the comments below.