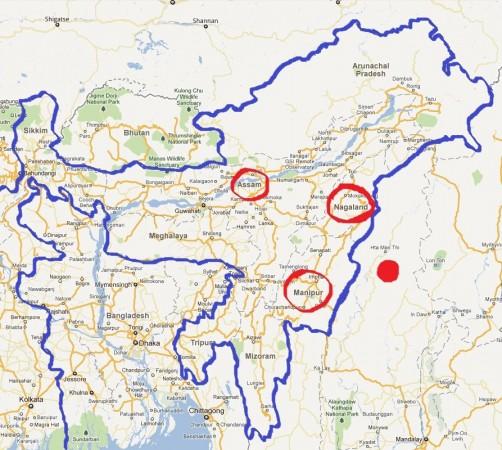 An earthquake of magnitude 5.5 on the Richter scale struck the India-Bangladesh border region on Tuesday at 2:39 pm with the epicentre being Tripura's Dhalai district located close to Mizoram and the Chittagong Hill Tracts of Bangladesh.
Tremors were also felt in Meghalaya, Manipur, Mizoram and southern Assam. There were no reports of any damage to life or property.
However, the Central Seismological Observatory (CSO) in Shillong put the magnitude of the quake at 5.7 on the Richter scale. The earthquake was felt for about five to six seconds.
"The exact location of the epicentre has been put at Latitude 24.1* North and Longitude 91.1* East, and had a depth of 28 km," an official at the CSO told the Indian Express.
People ran out of their homes and shops when the quake struck.
"It was the strongest earthquake that I have felt till date. It felt as if the whole building would collapse," Pradip Mallik, an Agartala resident, told the IE.
The entire region was struck by an earthquake of 6.7 magnitude on January 4, 2015, killing at least seven people and damaging over 100 houses. The epicentre of the quake was at Noney in Tamenglong district in Manipur.
Prelim M5.5 earthquake India-Bangladesh border region Jan-3 09:09 UTC, updates https://t.co/OqqWXyfuze

— USGS Big Quakes (@USGSBigQuakes) January 3, 2017