Jos Buttler showed Test match maturity and the ability to play spin, scoring what could prove to be a match-winning half-century for England on day two of the fourth Test match against India. With the Mumbai crowd expecting the India spinners to finish off the England innings quickly, Buttler and lower order, led by Jake Ball, showed great resolve to frustrate the home team and take England to a big-under-the-circumstances first innings score. In reply, India began well, with Murali Vijay striking a half-century and Cheteshwar Pujara doing, well, what he always does.
England got to 400, the same score that proved to be a winning first innings total ten years ago in Mumbai (yes, the Shaun Udal Test match), and India went into tea already fighting against the tide, with KL Rahul (24, 41b, 4x4) dismissed by Moeen Ali through the gate.
From there, however, India's two best batsmen when there is scoreboard pressure in Test match cricket – Murali Vijay and Cheteshwar Pujara – put on a partnership of proper concentration and take-the-fuel-out-of-the-opposition.
Pujara and Vijay batted with a clear plan, which was not to allow the England spinners, particularly Adil Rashid, to settle. Rashid was attacked by Vijay and that meant the leg-spinner was not allowed to bowl a long spell, pile the pressure on and get wickets as a result – India were also helped by quite a few rank bad balls, most of which were duly put away.
The 107-run partnership put India on 146 for one, trailing England by 254 runs, and while it is a solid beginning, there is still a lot of work for the home team to do on moving day Saturday.
Day 2 began with Ben Stokes looking to get out of his blocking rut and take the attack to the India spinners, and it worked once, when he smashed Ravindra Jadeja for a boundary, although the left-hander was also lucky earlier, having top-edged R Ashwin, with the ball falling short of the man in the deep.
Ashwin, though, would get his man, with Stokes (31, 92b, 3x4) given out caught after a review from India went the home team's way in controversial circumstances.
The ball went near the outside edge of Stokes' bat, and India went up in appeal. After it was given not out, Virat Kohli went for the review, which umpire C Shamsuddin, after a lot of deliberation, gave out, despite there being some doubt over the Ultraedge, considering the bat seemed to hit the ground at around the same time the ball went past the outside edge of the bat. On replays, it did look like there was an edge, however.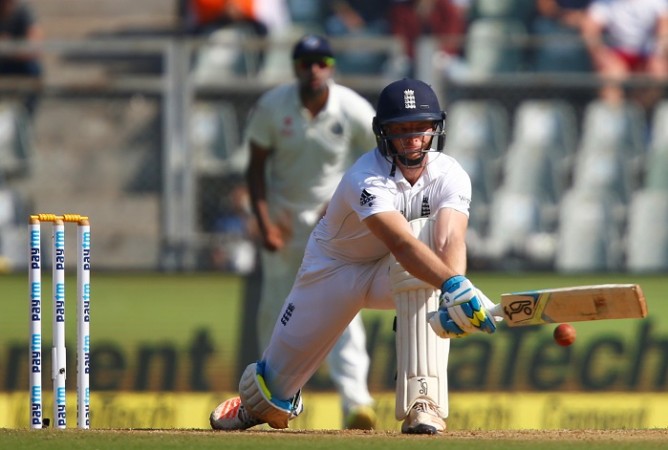 Stokes wasn't happy, but the England smiles returned as Buttler took over quite wonderfully, mixing attack and defence with perfection to move that scoreboard past the 350-mark the away side would have been looking for at the start of the second day.
With runs like liquid gold on this turning Mumbai wicket, Buttler added 14 runs with Adil Rashid (4, 16b, 1x4), before another crucial, unbeaten 51 runs came in the company of Ball, who batted, if anything, as well as Buttler on day two.
The India spinners were a little at fault for trying too hard with the innings end in sight, and England took full advantage, with Buttler playing quite well with the lower order. Buttler and Ball's partnership is what really gave England the score they were looking for, with the fast bowler batting quite brilliantly with his more accomplished batsman.
Kohli took the new ball in the 122nd over, in the hope of breaking the partnership, but it made little difference, as Bhuvneshwar Kumar and Umesh Yadav also struggled to contain the run flow.
Ashwin finally picked up Ball (31, 60b, 4x4) in the third over of the second session, with a ball that turned and bounced prodigiously taking a nick off his glove and nestling into the gloves of Parthiv Patel.
Buttler (76, 137, 6x4, 1x6) hit a six to get England to 399 and then a single to make it 400, before, off the first ball of Jadeja's next over, he was castled, going for the big hit.
Scores: First innings: England: 400 all out in 130.1 overs.
Overnight score: England: 288/5 in 94 overs.
India: 146/1 in 52 overs, trail by 254 runs.
Batting: Murali Vijay (70, 169b, 6x4, 2x6) and Cheteshwar Pujara (47, 102b, 6x4).
Bowling: First innings: India: Bhuvneshwar Kumar 13-0-49-0; Umesh Yadav 11-2-38-0; R Ashwin 44-4-112-6; Jayant Yadav 25-3-89-0; Ravindra Jadeja 37.1-5-109-4.
England: James Anderson 8-4-22-0; Chris Woakes 5-2-15-0; Moeen Ali 15-2-44-1; Adil Rashid 13-1-49-0; Jake Ball 4-2-4-0; Ben Stokes 4-2-4-0; Joe Root 3-1-3-0.
Fall of wickets: First innings: England: 99/1, Alastair Cook (25.3 overs); 136/2, Joe Root (38.2 overs); 230/3, Moeen Ali (70.2 overs); 230/4, Keaton Jennings (70.4 overs); 249/5, Jonny Bairstow (80.2 overs); 297/6, Ben Stokes (97 overs); 320/7, Chris Woakes (107.3 overs); 334/8, Adil Rashid (112 overs); 388/9, Jake Ball (127.2 overs); 400/10, Jos Buttler (130.1 overs).
India: 39/1, KL Rahul (14 overs).