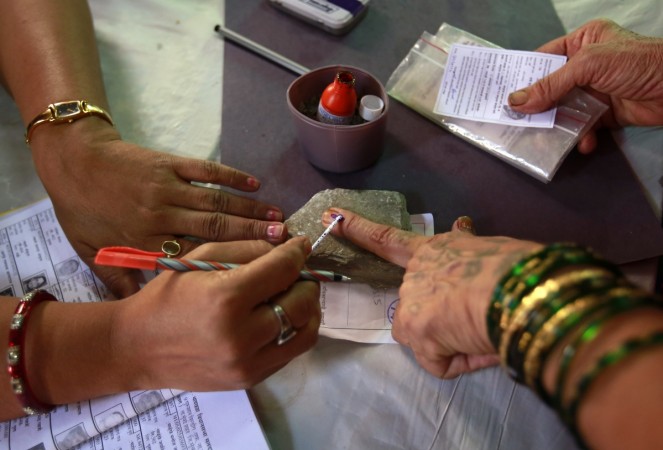 6:30pm 49 percent polling recorded in Jammu and Kashmir, according to latest reports.

4:15pm Jharkhand has recorded 60% voter turnout till 3pm.
3:23pm Jammu & Kashmir recorded 37.5% turnout till 2pm.
2:24pm Around 49% voters cast their votes in Jharkhand till 1 pm while Jammu & Kashmir recorded 25% voter turnout till 12 noon.
12:25pm Jammu and Kashmir has recorded 10% voting till 10am, while around 30% voters have cast their votes till 11 am in Jharkhand.
11:55am Jharkhand has witnessed over 13% turnout until 9 am, while in Jammu & Kashmir voters have started lining up at polling booths as the day started, warming up after a freezing cold morning.
As voting began in both Jammu & Kashmir and Jharkhand on Sunday morning for the fourth phase of ongoing assembly elections, Prime Minister Narendra Modi urged people to vote in large numbers.
"I urge all friends across J&K and Jharkhand voting today in the 4th phase of the Vidhan Sabha elections to vote in large numbers," he tweeted.
The penultimate phase covers 18 constituencies in three districts of Kashmir - Srinagar, Anantnag and Shopian - and two constituencies in Jammu's Samba district.
In Jharkhand, the phase covers 15 out of the 81 seats.
Following the freezing temperature in the valley, voting began at 8 am, while it started at the scheduled time at 7 am in Jharkhand, according to IANS report.
Few voters were spotted at the polling booths across districts in the valley in the morning due to the freezing temperature. When polling began in Srinagar, only two people were seen outside the polling booth in Amira Kadal constituency, while four had turned out in Batmaloo constituency.
Over 14 lakh voters are expected to vote at 1,890 polling booths to decide the fate of candidates contesting in 18 constituencies in J&K, while in Jharkhand over 43 lakh voters are expected to cast their votes to elect their representatives from 217 political contestants.
Jharkhand is witnessing polling in 5,482 booths across the 15 constituencies; 716 of the booths have been declared "very sensitive" and 2,007 as "sensitive".
Jharkhand has ensured tight security as several parts in the state face Maoist threat.
In J&K, 440 companies of central paramilitary forces along with personnel of the state police and the Central Reserve Police Force have been deployed at polling booths.
Both the states have seen completion of three phases of assembly elections starting from 25 November, the final phase will be on 20 December.
Counting of votes for all the seats in the two states will take place on 23 December.