India captain Virat Kohli is smashing records at will. As he and his team-mates gear up to face South Africa in the fourth One Day International in Johannesburg tomorrow (February 10), yet another mark is in his sights.
Also read: Kohli breaks Ganguly's record
So far in the six-match series, India have called the shots with Kohli topping the batting charts with 318 runs from three innings. Kohli has been well complemented by wrist spinners Yuzvendra Chahal and Kuldeep Yadav who have shared 21 wickets between them.
India have raced to a historic 3-0 lead and they are one win away from claiming their first-ever bilateral trophy in the "Rainbow Nation".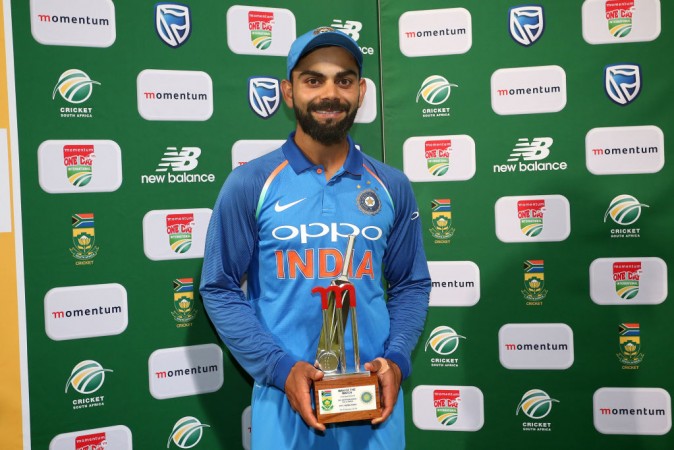 The 29-year-old Kohli started off the series with 112 and followed that with 46 not out and 160 not out. His average has shot up to a whopping 318. And he is just 41 runs away from breaking AB de Villiers' record.
Also read: Good news for Ashwin and Jadeja on ODI return
The most runs scored in India-South Africa bilateral ODI series is 358 by de Villiers during the Proteas' visit to India in 2015.
The visitors clinched the rubber 3-2, their first in India, after amassing a mammoth 438/4 in the fifth and deciding game in Mumbai. As India folded for 224, de Villiers-led team won by 214 runs.
Now, Kohli has a chance to do what his good friend de Villiers did more than two years ago. He can go past the South African to claim the record for most runs and also lead the side to first-ever bilateral ODI trophy in South Africa in 25 years. India's first visit to South Africa was in 1992.
De Villiers has returned to the squad for the remainder of the series after missing the opening three games due to injury.
Most runs in India-South Africa ODI series
358 - AB de Villiers (5 matches)
342 - Quinton de Kock (3)
342 - Kepler Wessels (7)
323 - Faf du Plessis (5)
318 - Virat Kohli (3)
Note: Kohli's tally after three matches in the six-match series