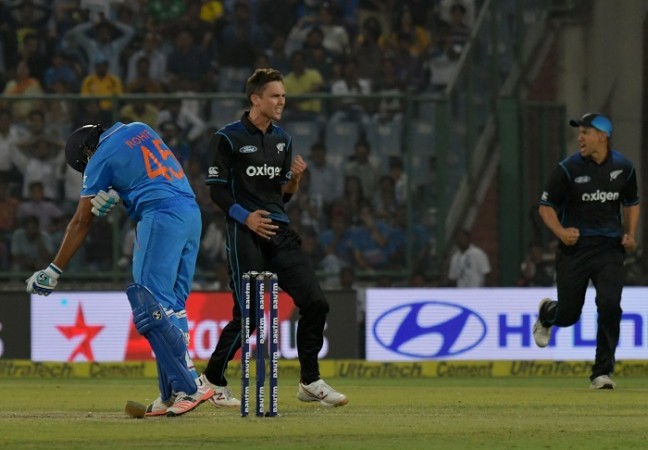 In this ODI series between India and New Zealand so far, several players from both sides have stepped up, produced in the time of adversity to help their teams out of a tricky situation. While the usual suspects like MS Dhoni, Virat Kohli and Kane Williamson have impressed, so have a few of the lesser-known lights, including Hardik Pandya and Jimmy Neesham.
With the fourth ODI set to be played in Ranchi on Wednesday, here is a look at the key players for both sides, the ones who could make the difference.
India: The openers: India's opening duo of Rohit Sharma and Ajinkya Rahane have not found their batting form yet in this series. Maybe it is the pressure of the chase, even while hauling down a small total, or maybe it is the fact that they have just found ways of getting out without spending enough time in the middle. Whatever the reason might be, India need the top two to fire. Virat Kohli cannot keep carrying the burden, so it is up to Rohit and Rahane to give India a big opening stand, be that in a chase or batting first.
MS Dhoni: Ranchi is Dhoni-land, so expect the captain to make an impression on Wednesday. Dhoni's decision to push himself up the order might be more for himself than the team, but there is little doubt that a firing and in-form Dhoni is better for India than a batsman who seems to struggle to rotate the strike and finish off matches as easily as he used to. The captain scored a wonderfully-compiled 80 in the third match, and if he gets an opportunity to bat for a concerted time in the middle, the Ranchi fans could be in for another Dhoni special.
New Zealand: Martin Guptill: What is it about some players and playing in India, where they just don't seem to be the same? Guptill has looked out of his depth more often than not on this tour, and while his struggles in the Test matches were understandable, the right-hander really should have turned his fortunes around in the ODIs. The 30-year-old opener is at his best in limited-overs cricket and after showing a glimpse of what he is capable if in the last match, maybe this is the game the real Guptill finally stands up.
Trent Boult: Kane Williamson might have scored a magnificent hundred in the one match that New Zealand have managed to win on this tour, but the real architect of that victory was Boult, who bowled ten outstanding overs to tie the India batsmen up in knots. Boult was not his usual, penetrative self in Mohali, so the fast bowler will hope that changes in Ranchi.