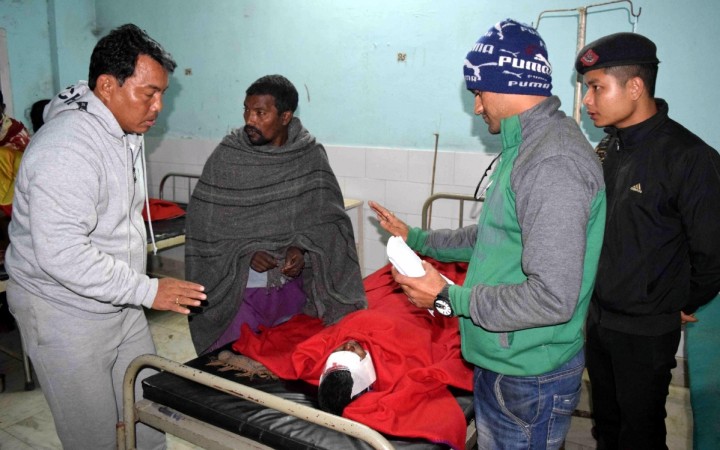 (Updated on December 24, 2014)
Three Bodo militants were killed in Assam's Chirang district on Wednesday soon after police firing killed five tribals protesting against a militant attack, which resulted in the death of 62 villagers.
The deceased include 21 women and 12 children.
Clashes between the police and protesters are still on.
Assam Chief Minister Tarun Gogoi while addressing a press conference said that his government would do everything to flush out the militants from the region, reports NDTV.
Gogoi also said that he would talk to Home Minister Rajnath Singh and seek the Centre's help for the operation. He added that the fight against the militants would be tough because of their guerrilla tactics.
The home minister who is set to visit the state said that additional police forces have been sent to the troubled areas.
Meanwhile, condemning the killings in the state, President Pranab Mukherjee said, "Such acts of violence must be put down [sic] with a firm hand."
Earlier on Tuesday, Bodo militants fired indiscriminately in the Saralpara and Santipur villages of Kokrajhar and Sonitpur districts, police said.
The militants attacked the villages in a response to the intensified operation by the security forces, said Inspector General of Police (Law and Order) S.N. Singh.
The victims were reportedly from the tribal communities of Assam.
Rajnath Singh condemned the attack and said that the Centre was monitoring the situation. He also tweeted saying that paramilitary forces have been rushed to the spot.
"I strongly condemn the killing of tribals in Assam by NDFB militants. Killing innocent people for any cause can never be justified," Singh tweeted.
According to reports, the state has been put on red alert after the attack.
The NDFB had triggered a grenade blast in Patgaon in Kokrajhar district on Monday, injuring three people.
A joint team of Assam Police commandos and the Army had killed two Bodo militants in neighbouring Chirang district on Sunday, close to the Bhutan border.
Tarun Gogoi on Tuesday said his government will not bow down to any militant threat.
(With inputs from IANS)