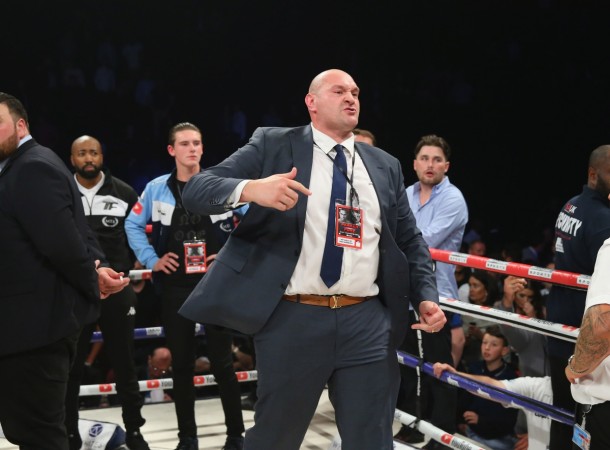 Former WBO, WBA, IBO heavyweight champion Tyson Fury is gearing up for his comeback to the boxing ring and man...is he shedding some of that extra flab with elan! The 29-year-old British pugilist, who currently holds the Ring magazine heavyweight title, is looking for a return as early as this April.
And he does not fear that extra flab creating problem anymore.
As a matter of fact, Fury has lost close to 4 stones of weight in the recent days despite him following the 3500 calories diet on a daily basis. A possible fight against Anthony Joshua, the current IBO, WBO and IBF heavyweight world champion, doesn't look like another farce anymore now.
Applying for my boxing Licance today, will be defending my @ringmagazine title in April,
Can't wait to get back in the ring.

— TYSON2FASTFURY (@Tyson_Fury) January 10, 2018
Who dose the boxing fans think I should fight in April after 2.5 years out the ring?

— TYSON2FASTFURY (@Tyson_Fury) January 10, 2018
Greg Marriott, Fury's dietitian and nutritionist, needs plenty of brownie points for this amazing transformation the heavyweight boxer is going through off late. Brownies, not literally though!
"He's on 3,500 [calories] per day," mentions Greg, in an interaction with Sky Sports.
"For example, if you have 1,000 calories but you expend 1,000 calories in the gym, you're on nil. When you try to cut weight [without enough calories] then you hit the wall, and you fatigue. This is where lots of fighters come unstuck.
"Tyson needs to be on 3,500 calories a day but, when he's expending 2,000 calories in the gym, he will need to be on 5,500 calories a day. You can then start cutting weight - this is the healthy way to do it," adds Greg, who is making Fury go through the ever-popular ketogenic diet.
The high-fat low-carb keto diet is making heads turn around the world lately!
Tyson Fury's diet

Seven meals a day

The all-important breakfast: Low-carb rye bread, avocado, eggs, lean bacon with no sugar at all.
"He's on a 'targeted keto' diet so we know exactly how many carbohydrates to give him," adds Greg. "We give him a high-glycaemic gel, like cyclists use, which powers him through an hour training session.
"After the session he goes back into ketosis, because as soon as you have carbohydrates on a ketogenic diet, you need a different fuel source. When he's done an hour's session, the carbohydrate is out of his body, he utilises a different fuel source which burns fat."