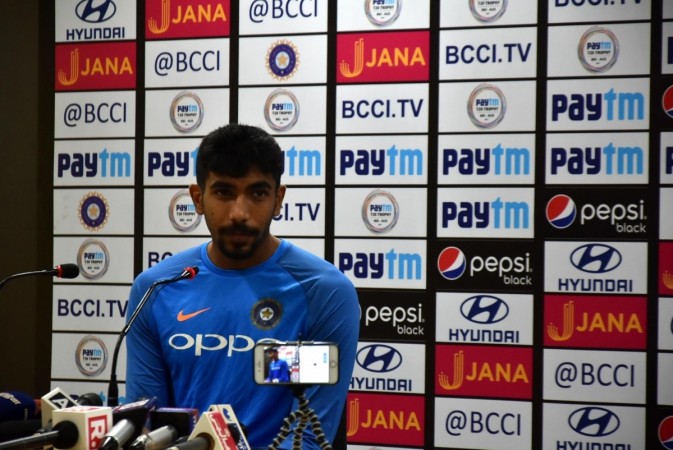 Ahead of the third day's play in the third Test between South Africa and India, paceman Jasprit Bumrah has cautioned the batsmen saying the the pitch "could be dangerous".
Yesterday (January 25), the hosts were bowled out for 194, with a slender lead of seven. India ended the second day at 49/1, ahead by 42.
Also read: 3rd Test Day 2 report
It has so far been a bowler-friendly wicket at The Wanderers and Bumrah excelled bagging his maiden five-wicket haul.
"It is difficult to say that (there is equal contest between bat and ball on this pitch) because some balls are up and down. That could be dangerous for the batsmen. We are not focusing on those things right now," Bumrah said after the day's play on Thursday.
The 24-year-old said it was a great feeling to take five wickets in only his third Test. "It was always a dream to play Test cricket and to get my first five-wicket haul here is a great feeling," he said.
According to the right-arm fast bowler, the match is in the balance.
"We have got a good start right now. We are really happy. Tomorrow morning we will be able to play with intent and capitalise on it. That is the main target right now. The match is in the balance. It could be anybody's game. We have not discussed about any target," Bumrah said.
Bumrah revealed that he had never bowled on such a wicket in India and added it was a new experience for him.
"This is a new experience. I have not bowled on such a wicket in India. It is always a good experience when you play outside, on such wicket where so much is happening. To control the temptation, to not to try too much, stray away from the basics.
"With the new ball a lot is happening. We were trying to bowl good hard lengths here. That was our basic plan. But as soon as the ball gets softer it is a little bit easier. But still it is up and down. We wanted to creat pressure as a unit from both ends. Over here, you are never set. Anytime you can get out," he explained.
The youngster, however, stayed away from being critical of the 22-yard surface.
"It is a little different (pitch). We have not played on such a wicket. We are not critical of the wicket right now because the match is going on. We can't stray away from the topic," he said.