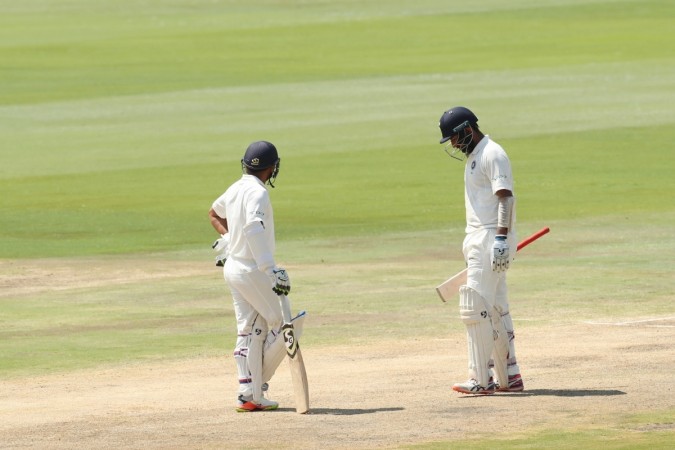 India batsman Cheteshwar Pujara has backed his bowlers to bowl better than South Africa in the ongoing third Test at The Wanderers Stadium in Johannesburg.
After the visitors were restricted to 187 on the opening day yesterday (January 24), Pujara said Indian bowlers will bowl better lengths than the Proteas.
Also read: 187 is enough, says Pujara
"That is what we always expect them (South Africa) to do (bowl nagging lengths). On this wicket our bowlers will bowl better lengths because we are used to bowling on such wickets. Our lengths are sightly better on this particular wicket. It will be natural for them to bowl a length which will be difficult to bat on. If we bowl well we have a very good chance. I am very hopefully that on this wicket we have enough runs," Pujara, who scored a hard-fought 50, said after the first day's play.
Also read: 3rd Test Day 1 report
The 30-year-old said batsmen are never "in" on the pitch, which he described as "one of the toughest".
"I never felt I was in, on this wicket. When you bat for a bit, things do get easier. I don't think you are in, on this wicket. If someone scores a hundred it will be a brilliant knock," Pujara, who took 54 balls to score his first run, added.
According to the right-hander, second day's first session will be crucial. South Africa will resume from 6/1.
"We will be trying to get them out before 150. The second innings will be very important. Seeing the weather forecast I think it will be overcast and there will be more help for the fast bowlers. First session will be very crucial for us," he said.
On getting run out in both the innings of the previous Test in Centurion, Pujara said it was "unfortunate" and wanted to forget it.
"It was a bit unfortunate because I was looking good in the last Test match. The way I was batting, I felt in. But it was bit unfortunate that I was run out in both the innings. That was a tough time. I don't think any cricketer would get out twice (run out) in one Test match. That is something which I would like to forget and move on. The way I was batting today, very happy with that," he said.