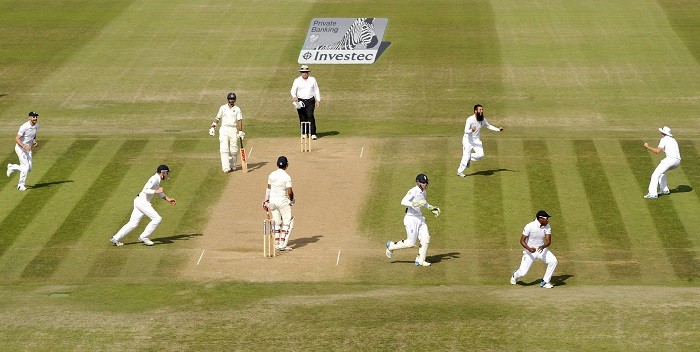 The euphoria of the Lord's Test match win for India feels like a distant memory; the pain of an inevitable heavy loss to England in Southampton now very much a reality.
In another day of complete and utter dominance from England and abject batting from India, the third Test match of this see-sawing five-match series is headed one way – to the gleeful arms of the hosts.
India ended an as-disappointing-as-they-come Day 4 floundering on 112 for four in 42 overs – Ajinkya Rahane (18, 45b, 2x4) and Rohit Sharma (6, 25b) at the crease -- chasing a target of 445, with the batsmen, superstars and Test match specialists, and all, failing to cope with the pressure while also making Moeen Ali, and Joe Root, look like Muttiah Muralitharan.
The target of 445 was not what would have looked daunting for the India batsmen as they headed into the fourth innings – it would have been the time that they had to bat in the rest of the Test match to save the game.
Only two results looked likely the moment India were bowled out for 330 in their first innings, from an overnight score of 323 for eight, giving England a first innings lead of 239, with an English victory looking like the most likely outcome.
And that case only strengthened when England blazed their way to 205 for four declared in 40.4 overs to set India that massive target, with plenty of play still left on Day 4 and an entire day's play coming up on Thursday.
India did not begin well, they showed little fight after that as well, making Day 5 just about when England will win, rather than if.
Murali Vijay (12, 35b, 1x4) was the first of many to go for India on Day 4, getting run out of all things in this world in a Test match they are trying to save, with Stuart Broad bringing out his fielding skills to the fore with a nice underarm direct hit.
Six balls later, and the groans in the Indian dressing room got a little louder as Moeen the-best-spinner-in-the-Test-series Ali induced an outside edge off the blade of Cheteshwar not-gonnabe-a-wall-this-time Pujara (2, 6b) with Chris Jordan completing an outstanding catch diving low to his right in the slips.
After the two fast bowlers had done their bits in the field, Shikhar Dhawan and Virat Kohli looked to settle things down, putting on a 51-run partnership for the third wicket to just ease that pressure a tiny bit.
But then you could always feel that third wicket lurking in the shadows, like a tiger on the prowl waiting to pounce, and to make matters worse from India's point of view, it was part-time spinner Joe Root who produced the breakthrough. It was a great ball, though, one that came in on the angle from around the wicket and turned the other way before taking that outside edge of Dhawan (37, 85b, 6x4) to loop nicely to Jordan.
A few overs later, and it got worse for India as Kohli (28, 56b, 3x4) nicked one to Buttler off Ali, who yet again brought his golden arm into play, making the Indian batsmen look like novices against the spinners.
At 89 for four, India were now staring down a blind alley with a 50-foot wall with barb wire the only path of escape and a few dogs thrown in for good measure as well. Rahane and Rohit did their best to delay the inevitable, by seeing off the final few overs to take the contest into day five.
Earlier, India did not last too long on Day 4 morning, as MS Dhoni (50, 113b, 5x4, 1x6) fell in just the third over of the first session, without opening his account on the day, top-edging a pull shot off James Anderson to Jos Buttler.
Anderson (26.1-10-53-5) would complete his five-for a couple of overs later, picking up Mohammed Shami and with it grabbing a perfect little 32nd birthday gift for himself.
England were never going to ask India to follow-on, with the hosts, after whittling India out easily, coming in to bat with one plan in mind – score runs quickly, and make India bat for as many overs as possible in the fourth innings.
Alastair Cook was in the run zone again, adding a 70 (114b, 7x4) to add to his 95 from the first innings to banish those he-cannot-bat-anymore critics into oblivion.
While Cook was the anchor in the England second innings, Gary Ballance, Ian Bell and Joe Root provided the quick runs at the other end, with the latter in particular singeing the Indian bowlers with a quickfire half-century.
With the lead at 239 at the start of the third innings of the Test match, the first target would have been to bulge that lead to over 400 ASAP. The start was not searing, with India holding the batsmen to a run rate below three in the first 12 overs, while also picking up the wicket of Sam Robson, who edged one to Dhawan at first slip off Bhuvneshwar Kumar.
Once England hit their groove, though, there was very little India could do to stop the run glut. With time in their favour and wickets not an issue, Cook, Balance (38, 48b, 5x4, 1x6), Bell (23, 21b, 4x4) and Root (56, 41b, 9x4) made hay while the sun baked the bowlers to get that score up to 205 for four, and a lead enough to send those worry lines amongst the Indians can't-count-them-anymore level.