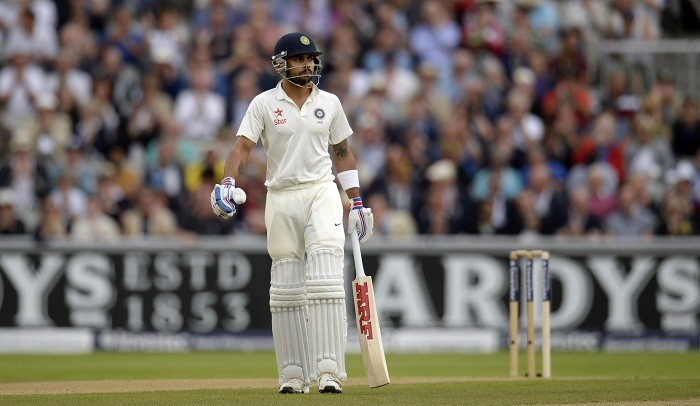 Virat Kohli, when he is in full flow, there is no better player to watch in world cricket at the moment. The India vice-captain, in company with the equally excellent Ajinkya Rahane, kicked out the pain the India fans would have been feeling after the two overnight batsmen fell early in the piece, with some glorious, delectable shots in a day of some outstanding Test match batting.
India were staring down the barrel after losing Cheteshwar what-has-happened-to-him Pujara in just the second ball of Day 3 of the third Test in Melbourne, but Kohli (169, 272b, 18x4) and Rahane calmed those nerves with a counter-attacking partnership of some serious style, while helping themselves to deserved hundreds - and both their respective highest individual scores by some distance -- to help India to 462 for eight in 126.2 overs at stumps, trailing Australia by 68 runs.
The two batsmen, who took India to a wonderfully pleasing 336/3 at Tea courtesy a wicketless second session, continued to score runs freely in the final session, getting India past 400, before it all went pear-shaped again. Rahane, after a spectacularly aggressive 147 (171b, 21x4), finally fell to Nathan Lyon (29-3-108-2), lbw after missing a sweep shot, and from there India's soft underbelly came to the fore.
KL Rahul played a couple of the most ridiculously unfathomable shots you will ever see from a Test match debutant. It was almost as if Rahul walked in to bat thinking he was playing the final five overs of a T20 game, with India needing 50-odd runs for victory, rather than a Test match Day 3 with the score at 409/4.
The Karnataka batsman was given a major reprieve while on just 3, going for a loft down the leg-side off Lyon, with substitute fielder Peter Siddle unable to latch onto a catch at midwicket which he should have easily grasped.
So, a life given and what does Rahul, ironically brought in for Rohit Sharma, who has a penchant to throw his wicket away time and again, do? He goes for an expansive sweep and top-edges one to Josh Hazlewood at short fine leg.
Kohli's face after the wicket said it all, and India's innings kept losing its momentum as MS Dhoni (11, 23b, 1x4) was caught behind off the excellent Ryan Harris (25-7-69-4), before the Australia fast bowler dismissed R Ashwin for a duck.
Suddenly, India went from from 409/3 to 434/7 and it was all down to Kohli again to get his team as close to Australia's total as he could, which he took to 462 before falling to Johnson in the second ball of the final over of the day -- a waft outside off stump with Haddin completing an outstanding catch -- which eventually turned out to be the final ball.
Earlier, Pujara's (25, 71b, 2x4) disappointing form on this Australia tour continued as Harris found the outside edge of the right-hander, who unnecessarily poked his bat out to a rising delivery outside off stump, with Brad Haddin, the man who dropped a sitter off Pujara on Day 2, taking a stunning catch diving to his right.
That wicket put the pressure right back on India, but Kohli came out like a man on a mission, playing those gorgeous-as-they-come cover drives with great aplomb. However, Vijay (68, 135b, 7x4), whose batting flow from the previous day stayed in bed, lost his wicket as well, after a short-ball barrage from Mitchell Johnson, and that too to another loose shot with Shane Watson this time inducing an outside edge which went straight down the throat of Shaun Marsh at first slip.
The Vijay wicket put India on a precarious 147 for three in 49.5 overs from the overnight score of 108/1 in 37 overs, and a big partnership was needed desperately.
Kohli, glorious and smooth as they come, and Rahane, equally comfortable playing those jaw-dropping shots, provided India with just that, putting on 262 runs together in just 57.5 overs -- the highest partnership by India outside Asia in 10 years -- to take that early momentum away from Australia.
Both batsmen unfurled one outstanding shot after another, with Kohli, in particular, catching the eye as he raced to a half-century in the morning session.
The second session belonged to Rahane, though, as the Mumbaikar showed exactly why India have such high hopes pinned on him. The right-hander was in the groove, and despite the best efforts of Mitchell Johnson and co., he could not be taken off it as he raced to his third century in Test cricket and the first ever against Australia.
At the other end, Kohli saw his momentum and concentration halted a little by an incident involving Johnson, when the express pacer struck him with the ball while attempting that throw back to the stumps which every batsman hates.
After an initial apology, things got heated up a little, with Kohli then turning to those cat lives of his as Shane Watson, first, dropped a easy-enough catch in the slips, before a hook shot attempt looped up and just, only just, evaded the diving glove of Brad Haddin.
Both of those reprieves came from Johnson's bowling, and the right-hander forced that concentration which had gone away for an early cuppa, to return, helped, no doubt, by Rahane's brilliance at the other end, to zoom into his third century of the series, and a lot more.