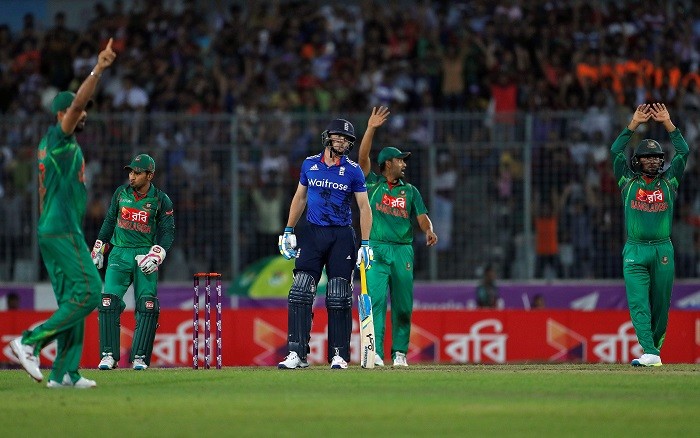 After England won a match they should have lost and Bangladesh picked up a victory from a game that should have seen their terrific run at home in one-day cricket come to an end, it all comes down to the 3rd ODI, the match that will decide the outcome of this cannot-take-your-eyes-off-it series.
While this series deserves another edge-of-the-seat-stuff ending, it could instead provide a damp, anti-climatic one, with rain threatening to ruin the final one-day match. Chittagong has hit by incessant rain over the past couple of days, leading to the Bangladesh Cricket Board even asking the English Cricket Board for a reserve day.
Get the final score and quotes HERE
That request was denied, owing to the fact that England start their preparations for the Test series with a tour match on Friday, so all that can be done is crossing those fingers and hoping the rain stays away for Wednesday, even if the forecast is of the gloomy kind.
If a match does go through, then it promises to be another brilliant one. England came from nowhere to top Bangladesh in the first ODI, while the visitors' batsmen let their team down in the second match, with tempers fraying as well, leading to a few fines and plenty of outbursts on social media.
With the heat-factor definitely up in this series, the third one-day international promises to be one to cherish from ball one.
While playing on the edge and showing plenty of aggression and fire is great, when it comes to deciding matches like these, it is the team that shows the better ability to stay cool under pressure that ends up thriving. Moeen Ali is certainly aware of that aspect.
"We just took a small step back, it wasn't as bad as probably the way Bangladesh batted in the first game," Moeen said, reflecting on the second ODI defeat. "But these things can happen when you are chasing. We didn't play the way we can play. We played like we played almost back in the day.
"We are a different side now than we were before. I know the last game we didn't bat well. Bangladesh are good at home anyway, any ground at home. It just eggs us on to score big runs and win.
"It's going to be a tough game for us we know that, they should have probably won the first game they let us off a little bit. We still have our best to come."
Bangladesh will also feel the same, making this final match of the series all that more exciting... provided the rain stays away, of course.
Where to Watch Live
Bangladesh vs England 3rd ODI match is set to begin at 2.30pm local time (2pm IST, 9.30am BST, 4.30am ET), weather permitting. TV and live streaming information is below.
India: TV: Star Sports 4 and Star Sports HD4. Live Streaming: Hotstar.
Bangladesh: TV: GTV.
UK: TV: Sky Sports 2 and Sky Sports HD2. Live Streaming: Sky Go.
Middle East: TV: OSN Sports Cricket. Live Streaming: OSN Sports Cricket Play.
USA and Canada: TV: Willow TV. Live Streaming: Willow TV Online.