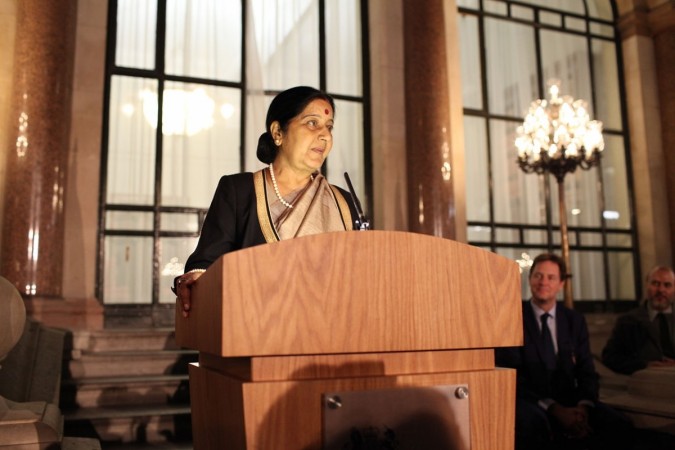 External Affairs Minister Sushma Swaraj said that the 39 Indians who were abducted in June 2014 in Iraq by the Islamic State group or ISIS are still alive. She also said that the ministry was trying to rescue Judith D'Souza, an aid worker from Kolkata who was abducted from Afghanistan on June 9.
Swaraj said that there was no information regarding the deaths of the 39 Indians apart from what their Bangladeshi colleagues and an Indian worker Harjeet Masih had said in November 2014. Fifty three Bangladeshi construction workers, including Hasan and Shafi, were abducted with 40 Indians, including Masih. The Indian and Bangladeshi workers were segregated and the latter were released. Masih had told the Bangladeshi workers that he escaped, while 39 Indians perished by the hands of ISIS terrorists. He had escaped as he pretended to be dead, according to India Today.
"I am not giving false assurance. If I had confirmation that they were killed, then definitely, I would have sought apology from their families with folded hands and said they were killed. Their killing in such a situation in Mosul in Iraq would not have been blamed on me...When I say they are alive, I have taken on myself a major responsibility of tracing them....Nobody except Harjit Masih said they were killed. I will do injustice to them if I say they have been killed. It is my the responsibility to (find them) and I will not shy away from it," Swaraj was quoted as saying by the Press Trust of India.
She added, "I do not abandon any Indian national."
Swaraj had also met the families of the 39 abducted Indians in February 2016, assuring them that they were alive. On Sunday, she said that two leaders of Gulf nations had assured Prime Minister Narendra Modi, President Pranab Mukherjee and her about the 39 Indians who were abducted, according to the PTI.
Swaraj also addressed questions regarding the abduction of the 40-year-old Judith during a press conference on Sunday: "We are trying our best. The way we are going ahead, I think it will be resolved soon."