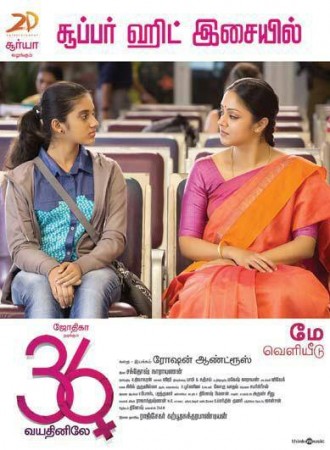 The release of "36 Vayadhinile" has changed the mood at the Tamil box office. The movie has received an overwhelming response in the theatres and the weekend mostly saw families thronging to the theatres to watch the movie.
"36 Vayadhinile", which marked Jyothika's return to the silver screen after a gap of 8 years, is produced by her husband and actor Suriya. Since the movie received an overwhelming response, Jyothika thanked audience through a note that was released by Suriya via his Twitter page.
"Few words straight form my heart, I'M overwhelmed with the love and respect you all have shown towards '36 Vayadhinile! Suriya, our production house 2D, and the most memorable welcome for Roshan and myself. Opportunity kicked on my door and I did this film with a fire inside me believing that women should be respected for being homemakers as they juggle between many roles in day to day life thereby loosing the drive to chase their own dreams. Giving heroines a better standing in this male dominated industry and making woman ourselves understand that our identity lies in our self respect, confidence and achievements, and not just in our marital status," wrote the actress.
[Read '36 Vayadhinile' Movie Review: Jyothika Reclaims 'Queen of Tamil Cinema' Tag]
"Standing Proud today because of you all, All I can say is that each one of you who have loved '36 Vayadhinile and supported it are the reason to start the change, which is to empower and celebrate womanhood. Hoping to see many more Vasanthi strive to achieve their goals!," she added.
"36 Vayadhinile", which has a woman-centric story, enjoyed a decent opening at the box office. The movie is the remake of Malayalam hit film, "How Old Are You", and is directed by Rosshan Andrrews, who also made the original version.
Humbled by your warm welcome for 36V!I thank our Audience, who again proved good cinema has no boundaries! 2D n Team will live up to it..

— Suriya Sivakumar (@Suriya_offl) May 17, 2015
Dear all this one is from Jo! pic.twitter.com/T4erDTqYZR — Suriya Sivakumar (@Suriya_offl) May 17, 2015