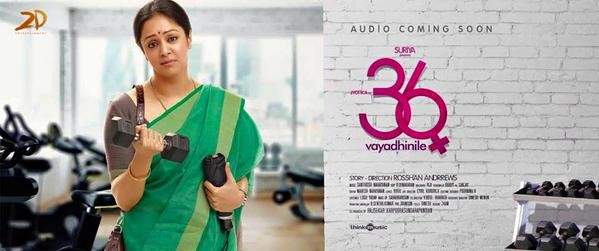 IBTimes India Rating: 4
Tamil film "36 Vayadhinile" hit screens on 15 May, much to the delight of Jyothika fans. And as expected, the actress had made an impressive comeback on screen with this family entertainer.
"36 Vayadhinile" is not just another women-centric film, but reminds viewers of ordinary women they would come across in their lives. The story of "36 Vayadhinile" revolves around a 36-year-old government employee (Vasanthi), who is a mother of a teenage girl.
Her personal life goes through a struggling phase when her husband Tamizhselvan (Rahman) decides to go abroad to chase his dreams. But when Vasanthi learns that her husband has decided to take their daughter along with him, she is upset.
Things change dramatically for her when, one fine day, the President of India expresses a desire to meet her, after her daughter asks an impressive question at an interactive session at school. Vasanthi soon realises that she has become a celebrity overnight. But things go out of hand when she faints in front of the President and becomes joke of the town.
After suffering a big humiliation, she is in for a surprise when her college friend Susan (Abhirami), a successful entrepreneur comes to meet her, eventually becomes the driving force of her life.
The rest of the film is about how Vasanthi rediscovers her identity and rewrites her life story.
The movie shows two phases of Vasanthi's life. In the first half, she comes across as a woman who is totally insecure due to her age. Her life is monotonous, caught between daily family chores and the dusty files of her office. The second half presents her as an inspirational lady who is brimming with energy and confidence.
Meanwhile, if you think the movie is about a downtrodden woman who seeks revenge against those who pushed her down, "36 Vayadhinile" will be a disappointment. For, the movie is a family drama, which is all about a middle-aged woman and her dreams.
For those who have watched the original version "How Old Are You" in Malayalam, the story might not be new. But the brilliance of director Rosshan Andrrews lies in the fact that he has done justice to the original movie and created a movie that probably is better than the original movie.
The director has managed to cover up the flaws of "How Old Are you" and put a neater version with "36 Vayadhinile". The movie is short, crisp and at the same time, visually pleasing.
Coming to performance, the movie is all about Jyothika, and the actress has proved that nobody could have pulled it off like her. Her body language and her style speak volumes are commendable.
Tamil cinema can feel happy that the queen of expressions is back on screen with a bang, and this time the actress has managed to do it with much-controlled antics.
Rahman has done exceptionally well as an insecure, controlling husband and as an egoistic, middle-aged man. He is in fact, reflects one who is brought up in a strict patriarchal world. Rahman has done well as a husband who forces others to live according to his whims and fancies.
Like in the original version, Amritha Anil has done exceptionally well as a teenage girl. The rest of the star cast also contribute well to the storyline.
The background score and songs by Santhosh Narayanan are refreshing and are an integral part of this entertainer.
Cinematographer R Diwakaran has made excellent use of light and has enhanced the vision of the director. Neat cuts and transitions by editor Mahesh Narayaan have made this film a worthy of watching.
Overall, Jyothika's "36 Vayadhinile" is impressive.