Ajit Nawale, state president of Akhil Bharatiya Kisan Sabha, said that farmers cannot be ignored.
"This is not a political issue. The government must respect farmers. We have marched more than 100km and will go back only when all our demands are fulfilled," Hindustan Times quoted Nawale as saying.
Several students are writing the board exams and the farmers said that they continued the march at night so that students reaching the examination centre would not face traffic woes.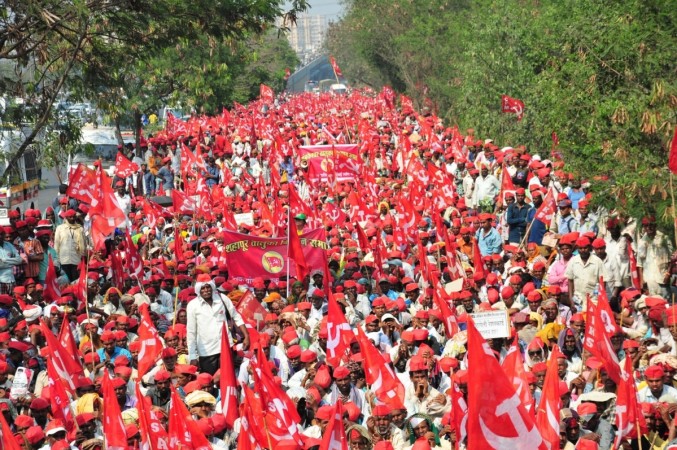 "We do not want to put SSC students in any trouble. But we will reach Azad Maidan. Therefore, we have decided to start walking past midnight," AIKS President Com. Ashok Dhawale. #KisanLongMarch

— AIKS (@KisanSabha) March 11, 2018
Volunteers are said to be helping farmers and distributing food to the farmers.
A six-member team has been formed to look into the issue
Speaking in favour of the farmers, Rahul Gandhi said that the issue isn't restricted to Maharashtra farmers.
The Aam Aadmi Party has now voiced its support to the farmers
Maharashtra chief minister Devendra Fadnavis will meet the Kisan leaders at 2 pm, reported FirstPost.
Several police and security arrangements have been made at Azad Maidan and Vidhaan Bhavan
About 35,000 farmers have reached Mumbai's Azad Maidan as part of the Kisan Long March, which began on March 6 in Nashik. The farmers now intend to gherao the Vidhaan Bhavan in Mumbai, Monday.
The farmers will voice their demands, which include a waiver of farm loans and electricity bills, better compensations for the land bought by the government and implementation of the recommendations of the of the National Commission on Farmers to name a few.
The farmers have been marching in protest for almost a week now and refused to rest even at night to reach Azad Maidan. "The farmers are being accommodated at the now defunct octroi plaza in Mulund (East). They have made their own arrangements for food. We are collaborating with different organisations to provide them with water and medical facilities," the Hindu quoted Akhilesh Singh, Deputy Commissioner of Police, as saying.
residents through to use LBS Road, Sion-Panvel Road, Thane-Belapur route to reach South Mumbai instead of Eastern Express Highway (EEH).