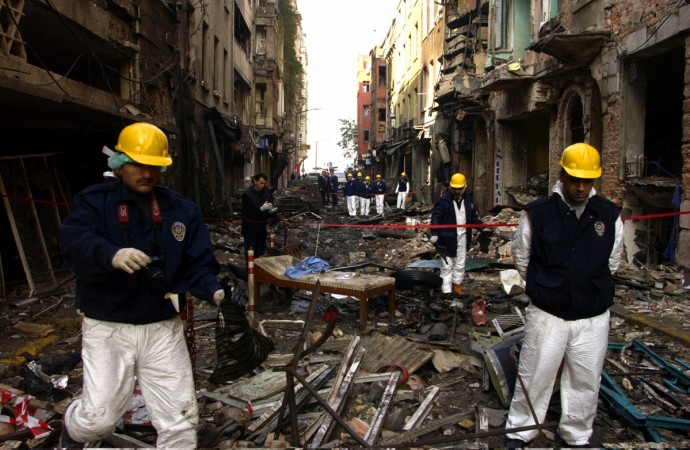 At least 50 people were killed and 94 others were injured after a suspected suicide bomb attack targeted a wedding celebration in the city of Gaziantep, near the border with Syria, in Turkey on Saturday.
Turkey President Recep Tayyip Erdogan has said that Isis is 'likely perpetrator' of Gaziantep attack, AFP reported.
According to Deputy Prime Minister Mehmet Simsek, the "barbaric" attack appeared to be a suicide bombing, while other officials suspect that the attack was carried out by either Kurdish militants or the Islamic State (Isis) group, the Associated Press reported.
"This was a barbaric attack. It appears to be a suicide attack. All terror groups, the PKK, Daesh, the (Gulen movement) are targeting Turkey. But God willing, we will overcome," Simsek told NTV television.
"This is a massacre of unprecedented cruelty and barbarism. We ... are united against all terror organizations. They will not yield," Simsek told reporters in Gaziantep after visiting the city to meet the injured and take stock of the situation along with Turkey's health minister.
Video footage from CNN Turk showed ambulances, police and emergency service workers rushing to the spot of the blast.
"We wish God's mercy for those who have lost their lives in this cruel attack and for the injured, a quick recovery. We strongly condemn this cruel terror attack and those carrying it out," the provincial governor's office in Gaziantep said in a statement.
Mahmut Togrul, a member of parliament for Gaziantep from Turkey's pro-Kurdish Peoples' Democratic Party, told Reuters that the blast happened at a Kurdish wedding around 10:50 p.m. Isis has carried out suicide bombings on Kurdish gatherings previously.
Isis militants in Turkey and across the border with neighbouring Syria as well as from the outlawed Kurdistan Workers Party (PKK) continue to pose a threat to the country in terms of security.
Certain factions of the Turkish military had attempted to overthrow the government in July, killing 240 people in the process.