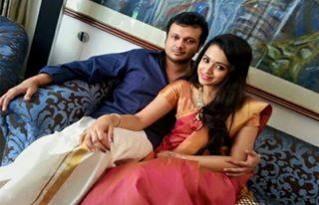 Actress Trisha Krishnan and entrepreneur and film producer Varun Manian are yet to officially announce their breakup, but there are three big reasons that are a testimony to their broken engagement.
Trisha got engaged to Varun Manian in Chennai on 23 January, but the rumours of their split started doing rounds after they spent the Valentine's Day separately. Trisha was seen minus her engagement ring on a few occasions and she skipped a wedding function in Varun's family. Recently, she also walked out of his production.
The actress, who turned 32 on 4 May, was flooded with birthday wishes, but Varun Manian reportedly steered clear of wishing her. Trisha had a birthday bash in Bangkok, which Varun did not attend. All these developments have led to several speculations about their breakup.
The latest buzz is that Varun's father, a big industrialist down South, was not happy with his son's decision to marry Trisha. "From the beginning, he wasn't in favour of his son's decision to get married to Trisha. In fact, Varun's family and relatives expected Varun to get married to someone from a similar background," The Times of India quoted a source close to Varun as saying.
However, a bigger reason behind the split seems to be Varun's disapproval of Trisha's wish to continue acting after marriage. "That's perhaps why things nosedived so quickly. The couple was contemplating a June wedding, but so many heated arguments happened over this issue, and they eventually never declared their wedding date," a friend of Trisha told TOI.
An ugly spat over Dhanush's attendance at the engagement was another reason for the growing differences between the couple. Varun, who is reportedly not on good terms with Dhanush, was angry over the actor's presence at his engagement ceremony. But Trisha had tried to defend her invitation to Dhanush stating he is her close friend and she could not have left him out of the guest list.
Trisha and Varun Manian reportedly had a major tiff over this. "A heated argument ensued. When Varun's father tried to intervene and calm the couple down, Trisha shot back at him and told him to stay out of this," a source close to Varun's family told TOI.