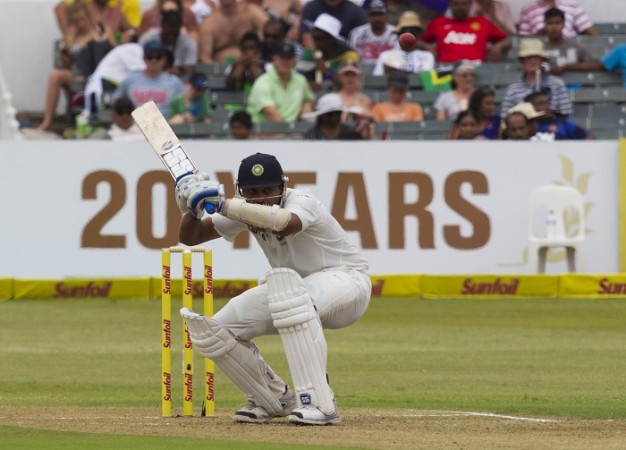 MS Dhoni's return to the India team gave the team some good vibes right from the off with the skipper winning the toss and choosing to bat first, and from there Murali Vijay, with a little help from his friends, made light of the pacy Gabba wicket to put India in a position of serious strength after day one of the first Test in Brisbane.
India were expected to struggle under the pace and bounce of the pitch which made the England batsmen shiver with fear at the thought of Mitchell Johnson running down at them, but Vijay led from the front with an immaculate century worth 144 (213b, 22x4), while Ajinkya Rahane (75 n.o., 122b, 7x4) performed exceedingly well as well, staying at the crease until the end of the day's play.
Vijay and Rahane's brilliant innings meant India finished day one on 311 for four in 83 overs, with the latter still very much at the crease alongside Rohit hopefully-he-will-play-well-this-time Sharma.
Earlier, Josh Hazlewood, who would break down late in the day with an injury, had threatened to curb India's early enthusiasm with two quickfire wickets – that of Cheteshwar Pujara and Virat Kohli -- in the second session, but Vijay and Rahane counter-attacked in style in the final session, putting on 124 runs together in just 27.3 overs to ensure India would have the cream on day one.
The only blemish of that final session, where India scored 160 runs, was the wicket of Vijay, who was out caught behind off Nathan Lyon. But, Rohit (26 n.o., 34b, 2x4, 1x6) came and played calmly alongside Rahane, allying for 50 unconquered runs, to take the away side to now-that-was-a-satisfying day.
India went into the post Lunch session in a strong position on 89 for one after 25 overs, with Vijay and Pujara looking pretty comfortable in the middle, but then came Hazlewood, who had been pretty disappointing in the opening session, with his Glen McGrath-like deliveries to strike down Pujara, first, and then more crucially Virat Kohli, fresh from a double century Test match in Adelaide.
The visitors finished on 151 for three after 52 overs at Tea – they managed only 61 runs in the session, while losing two wickets -- leaving them with plenty of work to do to, which Vijay and Rahane did with aplomb
A lack of an opening partnership has been India's bane away from home for quite a while now, but Vijay, who nearly won his team the first Test with a brilliant knock in the second innings, and Shikhar Dhawan made light of the early short ball barrage from Mitchell Johnson and co. to put the away team in a strong position after day one morning in Brisbane.
Vijay and Dhawan put on 56 runs together in just over 13 overs to send India on their way, with the former and Pujara then carrying on from there to finish the first session on a steady note.
Steven Smith, in his first Test as captain, said he was happy to lose the toss as the bowlers were excited to have a crack on a fast and bouncy track at the Gabba, but even if there was a bit of pace and bounce, there was very little movement in the air or off the pitch, which in turn negated the bowlers' threat to a large extent.
Johnson was quick and brutal at times, but both Vijay and Dhawan handled him well, while Josh Hazlewood, despite being economical, rarely looked like picking up a wicket, which of course would change in the next session.
Mitchell Starc, who was sidelined for a while due to the inability to cope with the extreme heat -- the temperature was in the mid-30s -- also struggled to trouble the India batsmen too often, with the Aussie bowlers perhaps bowling a little too straight on a pitch which would have encouraged the batsmen to throw their bat at the deliveries, which in turn would have brought the slips into play.
Dhawan, in fact, fell in such a manner with the left-hander, after a nice little 24 (39b), throwing his bat at a wide delivery from Mitchell Marsh and only managing to find an edge through to wicketkeeper Brad Haddin.
Australia could have had Vijay immediately after as well, but Shaun Marsh, in for the injured Michael Clarke, failed to latch onto a low catch in the slips.
Nathan Lyon, the star of the bowling show in the first Test, had a bit of the ball as well, but Vijay is in prime form at the moment and negotiated the spinner, as did Pujara, who also had trouble playing the off-spinner in Adelaide.
Vijay and Pujara began the second session on a circumspect note, with Australia, who clearly had a long discussion at Lunch, bowling a lot better. Even if the bowling was better, India still were too slow to begin with, scoring just 11 runs in the first eight overs of the second session, and whenever you play so slowly, a wicket inevitably follows. That wicket was Pujara's (18, 64b, 1x4) with the batsman dismissed by Hazlewood, who in the process picked up his first Test wicket.
It was a tad unlucky for Pujara, who got struck by a really nice short delivery from Hazlewood (15.2-5-44-2) before falling to Haddin. An appeal was made for caught behind and Ian Gould raised his finger before you could even blink, a decision which he perhaps should have taken longer to make with replays showing it had struck Pujara's helmet on its way to Haddin and not the gloves.
Kohli (19, 27b, 1x4) came in and looked in the mood again, batting well outside his crease and unfurling those drives to great effect. However, a slight misjudgement and Hazlewood, bowling tight and keeping it nice and easy just like McGrath did so often, had his man.
It was another short delivery that did the trick, with Kohli going for the cut but only managing a thick outside edge to Haddin. The ball was just too close to cut anyways and Kohli was done in by the extra bounce – there was plenty of evidence of that in the day -- as the right-hander became the third batsman in three to be dismissed caught behind – Vijay would later become the fourth victim.
Vijay did not look as comfortable at the crease as he did in the first session, either, and the opener was pretty lucky not to be walking back to the pavilion before the Tea break, with several balls looping up in the air only to just evade the Australia bowlers, but once the final session came along, it was all the man from Chennai, as India dominated.