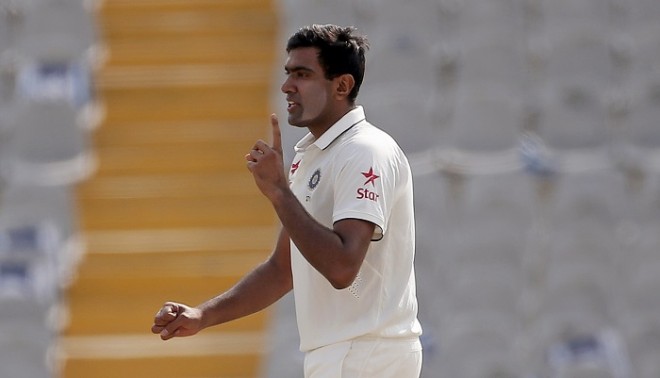 Virat Kohli was a happy man after losing the toss to Jason Holder, as he wanted his fast bowlers to take full advantage of a fresh pitch on day one morning of the second Test against the West Indies. While Ishant Sharma and Mohammed Shami did well, picking up three early wickets to give India the early impetus, it was R Ashwin, again, weaving that spin magic of his in sublime style.
After picking up seven wickets in the second innings of the first Test against the West Indies, Ashwin, with the ball turning quite a bit on day one at Sabina Park in Jamaica, helped himself to figures of 16-2-52-5 as the West Indies were bowled out for 196 in 52.3 overs.
India are just 70 runs adrift of West Indies' total at the end of day one, after KL Rahul struck a nice, unbeaten 75 (114b, 10x4) to help his team to 126/1 at the close of play. Shikhar Dhawan (27, 52b, 5x4) is the only man out, falling to offspinner Roston Chase, with Cheteshwar Pujara (18, 57b, 1x4) giving Rahul company in the middle.
After Kohli said he was happy to bowl first considering the moisture that was on the pitch, Ishant Sharma and Mohammed Shami took an over each to get warmed-up, but when they did, boy did they trouble the West Indies top order.
With Ishant (10-1-53-2) getting prodigious movement into the right-handers, Kohli placed a short leg and a leg gully for the fast bowler, and the former came into play as Kraigg Brathwaite failed to keep a ball that bounced on him down, with Cheteshwar Pujara completing a simple catch.
Off the very next ball, Ishant bowled the perfect delivery to the left-handed Darren Bravo. Coming round the wicket, the ball angled in, but then just straightened enough to take the outside edge, with Kohli completing the catch in the slips.
From 4/0 to 4/2, West Indies, who, like India, made the one change to their playing XI, then went to 7/3 as Shami (10-3-23-2) got one to bounce and move away with Rajendra Chandrika poking his bat out at the ball and only finding the outside edge to KL Rahul in the slips.
A partnership was essential, and a partnership came as Jermaine Blackwood, coming off a pair in the first Test, and Marlon Samuels saw off the Indian new ball pace attack, while getting a few runs in the process as well. While Samuels took all of 30 balls to get off the mark, Blackwood was on 28 after facing the same number of deliveries, with his decision to counter-attack catching the Indian bowlers off guard.
Blackwood (62, 62b, 7x4, 4x6), realising that knuckling down and blocking is not his game, decided to play his shots from the off, and while there were a couple of ooh and aah moments, for the most part, the right-hander was in control, helping West Indies to some semblance of respectability, before losing his wicket in the final over before Lunch.
Ashwin, who was enjoying bowling on this Sabina Park wicket, with the pitch giving plenty of turn and bounce, probably because of the moisture underneath, was the man to pick up the big wicket, as the offspinner got one to turn just enough to miss Blackwood's bat and strike his pads in front of the wicket.
West Indies went into Lunch on 88/4 in 26 overs, and while a little rain welcomed the players at the start of the second session, causing a few minutes delay, once play resumed, India took control again, with Samuels (37, 88b, 5x4, 2x6) seeing his gritty innings come to an end.
Just when he looked to be in complete control, striking three consecutive fours off Ishant and then following that up with a six off Ashwin, the inability to rein that adrenaline in, led to his demise, with the offspinner the man to take the wicket again, this time off a bat-pad.
Roston Chase, Shane Dowrich and Devendra Bishoo – lucky to survive the 34 balls, as Ian Gould, probably frustrated by Arsenal's lack of summer signings, refused to raise his finger for outside edges and lbws, even the obvious ones -- did not hang around long enough either, with Ashwin completing his five-for via another bat-pad, this time to dismiss the West Indies captain Jason Holder.
The last-wicket pair of Shannon Gabriel (15, 23b, 2x4, 1x6) and Miguel Cummins (24 n.o., 25b, 2x4, 2x6), on his debut, had a bit of fun, tonking a fair few to the boundary, but the inevitable came when Gabriel mistimed an Amit Mishra delivery.
Fall of wickets: West Indies first innings: 4/1, 2.4 overs (Kraigg Brathwaite); 4/2, 2.5 overs (Darren Bravo); 7/3, 5.1 overs (Rajendra Chandrika); 88/4, 25.3 overs (Jermaine Blackwood); 115/5, 29.3 overs (Marlon Samuels); 127/6, 35.1 overs (Shane Dowrich); 131/7, 36.4 overs (Roston Chase); 151/8, 43.3 overs (Devendra Bishoo); 158/9, 45.5 overs (Jason Holder); 196/10, 52.3 overs (Shannon Gabriel).