MS Dhoni had a memorable outing in Cuttack on Wednesday, December 20 as India crushed Sri Lanka by 93 runs in the first T20I of the ongoing three-match series. Apart from smashing a crucial 39 (off just 22 balls), the wicketkeeper-batsman also was busy behind the wickets.
By affecting four dismissals in Cuttack, the prolific stumper went past AB de Villiers' record (72) for the most number of dismissals by a wicketkeeper in T20Is.
Dhoni is primed to break another world record on Friday, December 22 when the hosts take on struggling islanders in the second T20I at Holkar Stadium in Indore.
The World Cup-winning Indian captain needs one more catch to become the wicketkeeper with most number of catches in T20s (all format). Dhoni is currently tied on 133 catches with Sri Lanka great Kumar Sangakkara.
Dinesh Karthik, who no more keeps wickets for the Indian side, stands second on the list with 121 catches while Pakistan discards Kamran Akmal is third with 115 catches.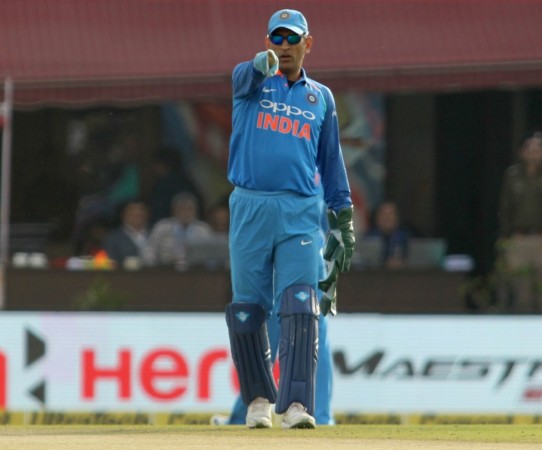 The veteran stumper on Wednesday was lauded for his wicket-keeping skills by former cricketers Russel Arnold and VVS Laxman.
The television commentators also shed light on how Dhoni's inputs from behind the wickets have helped bowlers, especially India's young wrist spinners -- Kuldeep Yadav and Yuzvendra Chahal.
Dhoni, who is known for his rapport with spinners, has been guiding Chahal and Kuldeep, who are now the team's go-to-bowlers in the limited-over formats.
Notably, the two wrist spinners have sidelined India's premier Test spinners R Ashwin and Ravindra Jadeja because of their ability to pick up wickets consistently in the middle overs.
"He knows their [bowlers'] minds inside out. MS [Dhoni] is good at reading the batsman as well. He generally tries to give a cue to the bowler about changing the line or pace. The bowlers tend to trust him. There is a great understanding between the bowler and the keeper, which is doing wonders for India," Arnold said.