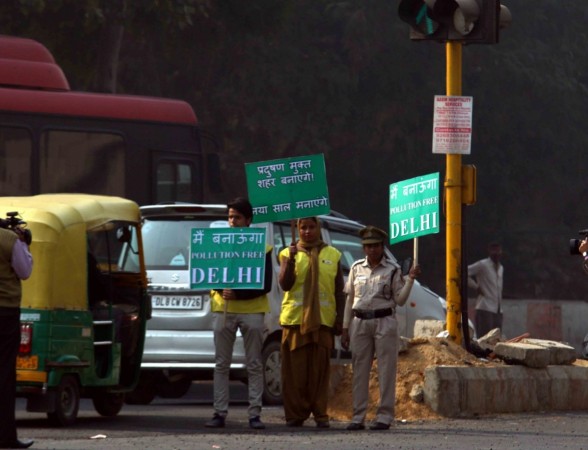 The odd-even car rationing plan aimed at curbing pollution in the national capital will return for another 15 days in April, Delhi Chief Minister Arvind Kejriwal said on Thursday.
The scheme, under which odd-numbered private cars are allowed to ply on odd number dates and even-numbered vehicles on even number dates, will be implemented for the second phase between April 15 and April 30. The decision was based on the residents' response to the first phase, implemented on a pilot basis from Jan. 1 to Jan. 15.
"We will start the next phase from April 15. By then, the board exams will also be over. The next phase will be for 15 days from April 15 - April 30," ANI quoted Kejriwal as saying. The chief minister added that the decision was taken after conducting surveys.
"In the last 15-20 days, the opinion of the people was taken. Opinions were collected over website and by conducting around 276 mohalla sabhas in which the local MLAs and SDMs were present. The opinions were also sought by IVRs and phone calls," Kejriwal said.
"275 of the 276 mohalla sabhas wanted Odd-Even to continue. One mohalla sabha in Vishwas Nagar in which 15 people were present, eight people said that they did not want it to continue. If we compile all data, then 81 percent of the people have said that the Odd-Even scheme should be implemented," he added.
Woman drivers and two-wheelers will remain exempted from the scheme.
There are 30 lakh two-wheelers in Delhi and if the scheme is imposed on it as well, there will be chaos on buses and Metro because the public transport system in Delhi is not as efficient, IANS quoted Kejriwal as saying.
He said the scheme will not be implemented permanently until the public transport system in Delhi is improved.
"By May this year, we will get 1,000 more buses; by August, we will get 1,000 more buses; and by December, we will get 1,000 more. So, by the end of this year, we will have 3,000 more buses," he added.
The Delhi government has also decided to "employ around 500 retired defence personnel as traffic enforcement inspectors," Kejriwal said.
Women and two wheelers are exempted but other exemptions are yet to be finalised: Arvind Kejriwal, Delhi CM #oddeven

— ANI (@ANI_news) February 11, 2016
We will employ around 500 retired defence personnel as traffic enforcement inspectors, SDMs will not be involved: Arvind Kejriwal #oddeven — ANI (@ANI_news) February 11, 2016