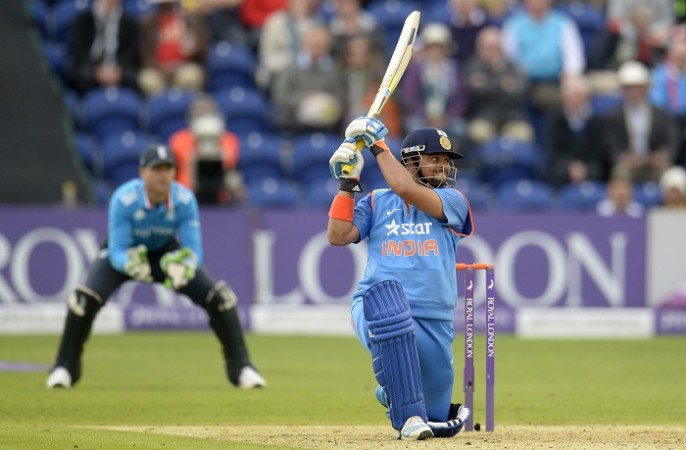 If only Suresh Raina could play like this all the time, particularly in Test cricket, India would have walked the series, rather than getting smoked 3-1.
Thanks to an in-the-ridiculous-zone century from Raina, India zoomed their way to 304 for six, putting those Test match batting woes behind them in style to send the England players on a leather hunt, before the bowlers backed their batsmen up with aplomb to fashion a comprehensive 133-run victory in the 2nd ODI in dark, wet and gloomy Cardiff.
Raina (100, 75b) showed exactly why he is tailor-made for ODI cricket, with India enjoying themselves in coloured clothes, and consigning that Test mauling to the back-burner.
In reply to the big score, England never quite got to grips with the chase, with Alex Hales playing a decent knock on his debut, but nowhere near enough to even trouble the Indian score as the hosts finished on 161 all out in 38.1 overs after some rain, before the start of the second innings, had pushed down the target to 295 from 47 overs.
Mohammed Shami (6-0-32-2), Bhuvneshwar Kumar and Mohit Sharma enjoyed themselves on a pitch which had a bit of nip in it, with spinners Ravindra Jadeja (7-0-28-4) and R Ashwin (9.1-0-38-2) joining in the fun a little later.
England actually got off to a strong start, with Hales looking in the mood and punishing any loose delivery to the boundary. Alastair Cook was his usual circumspect self, looking to drop anchor at one end and allow Hales to break free.
The home side raced to 53 for no loss after the first ten overs, before it all went pear-shaped. Shami, so disappointing in the Test series, finally found his groove, hitting the right areas and sending Cook (19, 33b, 3x4) packing lbw.
Ian Bell, Cook's opening partner before Hales was picked, did not last too long either, misreading an incoming delivery and seeing his timber disturbed after deciding to not play a shot.
From there, England were always behind the eight ball, and Joe Root's wicket – bowled by Bhuvneshwar -- in the 14th over only made the target look even more ominous.
Jadeja took over the wicket-taking job after that, picking up Hales (40, 63b, 5x4), who did enough to impress in his first ODI match, and Jos Buttler, before the tail was wrapped up quickly, despite the best efforts of Eoin Morgan.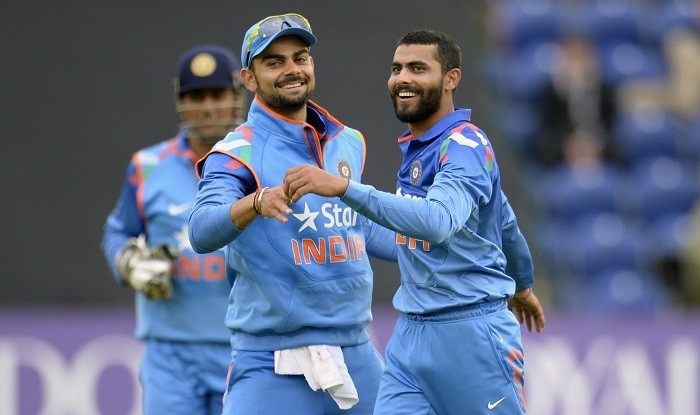 There were a few wobbles here and there for the visitors in the first innings – it is India, after all – but once Raina took charge in the middle, there was only one result – the ball smashing its way to and beyond the boundary line, with skipper MS Dhoni the inch-perfect foil to the scintillating left-hander.
Before the carnage, though, there was plenty to worry for India initially, after being put into bat by Cook, with Shikhar Dhawan and Virat Kohli, the two batsmen keenest to get some runs for themselves, ending up being the only two batsmen who actually did not make a score of note.
There are no prizes for guessing just how Dhawan fell, with the left-hander tickling one through to Jos Buttler off the bowling of Chris Woakes, after 22 rather difficult deliveries and 11 scratchy runs.
Kohli, India's main man in ODIs, came in and would have wanted to stamp his authority on the English bowlers right from the off, and that is precisely what he tried to do; but such is luck, or the lack there of, for the right-hander at this point that even when he leathers the ball in fine style he finds the fielder, which is what happened with Cook completing a catch at mid-off to give Woakes his second wicket in the same over.
That Kohli wicket was a massive blow for India and put the visitors on a precarious 19 for two in the eighth over – they would score just 26 in the first Powerplay -- with thoughts of another mega collapse – ala every single of the final three Test matches – coming to mind immediately.
However, India are a different beast when it comes to white ball cricket, and Rohit Sharma and Ajinkya Rahane (41, 47b, 4x4), one of the few batsmen who impressed in the Test series, steadied the ship wonderfully well with a 91-run partnership from just over 16.1 overs.
Rahane was the man in form and looked like it as well, timing the ball beautifully and making run-scoring look easy on this cold morning/afternoon in Cardiff.
Just when it looked like India had the innings under control, though, in came the disarming-looking James Tredwell, ambling in and bowling what looks like dollies, but are actually wonderfully skilled deliveries, to knock out the two settled batsmen.
First to go was Rahane, who left his back foot a touch out of the crease with Buttler doing the rest -- it was lazy batting from the Mumbaikar, who looked untroubled and on course for a big score.
Rohit is not Rohit if he throws away his wicket now is he, and after sticking around for 87 deliveries for his 52 (4x4, 1x6), in came that stupid shot which went straight down the throat of Woakes at long-off to give Tredwell (10-1-42-2) another impressive wicket.
India were in a spot of bother again on 132 for four in the 30th over, but with ODI maestros Raina and Dhoni at the crease, there was never really too many worries of a sudden collapse.
Raina looked fluent the moment he came in, with those memories of that epic knock in the IPL 2014 playoffs still vivid, while Dhoni (52, 51b, 6x4) was his calming best, letting his partner do the smashing as he picked up the singles whenever on offer.
The duo's brilliant partnership completely turned the match in India's favour, with the manner in which Raina took apart the England bowling a sight to behold. The left-hander's sixes straight down the ground, hit with effortless ease, was worth the price of the ticket on its own as the smattering of Indian fans finally had a celebratory beer or two to drink, rather than drown their sorrows in.
The more India attacked, the more wayward England's bowlers became, with Chris Jordan hitting the wide counter like it was his own personal boxing bag, while the short deliveries, particularly to Raina, only disappeared to the boundary.
Raina (100, 75b, 12x4, 3x6) fell in the first ball of the 47th over, picking out Anderson at deep cover off Woakes, but the damage had been done by that brilliant blade, even if Dhoni's wicket, also taken by Woakes (10-1-52-4), late on did quell the final charge that little bit, but not enough to give England a chance in the chase.