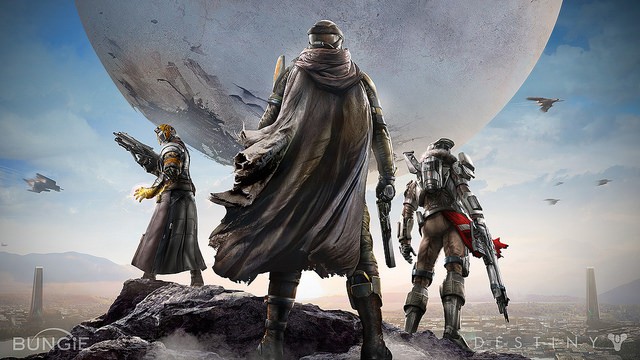 Who doesn't love free stuff? In fact, the term "free" is more magical and powerful than most people think. The mere mention of the word makes it so irresistible for people that they at least check out what the deal is all about.
It seems our ever-beloved Destiny also has some free stuff that fans might not be aware of.
There are as many as 27 different upgrade codes for Destiny that have been discovered, all of which can be redeemed via Bungie.net for a plethora of rewards.
All of these upgrade codes have been unearthed, thanks to promotional trading cards, a website, and packaging for the limited edition version of the game.
To redeem them, all you need to do is register on the site and link up the respective PSN/XBL account(s) before entering these codes.
Below, we list the 27 free codes for Destiny that can be redeemed by any player at almost any time.
Promotional Trading Card Codes (Will Unlock Grimoire Cards)
YKA-RJG-MH9 (Class: Warlock)
MVD-4N3-NKH (Class: Titan)
3DA-P4X-F6A (Class: Hunter)
TCN-HCD-TGY (Fallen: Rixis, Devil Archon)
HDX-ALM-V4K (Destination: Cosmodrome)
473-MXR-3X9 (Enemy: Hive)
JMR-LFN-4A3 (Destination: The Ocean Of Storms, Moon)
HC3-H44-DKC (Exotic: Gjallarhorn)
69P-KRM-JJA (Destination: The Tower)
69P-VCH-337 (Exotic: The Last Word)
69R-CKD-X7L (Hive: Ogre)
69R-DDD-FCP (Destination: Valley of Kings, Mars)
69R-F99-AXG (Enemy: The Fallen)
69R-VL7-J6A (Exotic: Red Death)
69X-DJN-74V (Enemy: Cabal)
6A7-7NP-3X7 (Destination: Shattered Coast, Venus)
6A9-DTG-YGN (Vex: Minotaur)
Reward Code (Will Unlock Emblem)
7F9-767-F74 (Emblem: Sign Of The Finite)
Limited Edition Hidden Codes (Will Unlock Emblems and Shaders)
FJ9-LAM-67F (Emblem: Binding Focus)
JDT-NLC-JKM (Emblem: Ab Aeterno)
JNX-DMH-XLA (Emblem: Field of Light)
7CP-94V-LFP (Emblem: Lone Focus, Jagged Edge)
JD7-4CM-HJG (Emblem: Illusion of Light)
7MM-VPD-MHP (Shader: Double Banshee)
RXC-9XJ-4MH (Shader: Oracle 99)
X4C-FGX-MX3 (Emblem: Note of Conquest)
A7L-FYC-44X (Emblem: Flames of Forgotten Truth)
Stay tuned for more updates!
[Source: Gamesradar]