More than 22 people were killed on Friday, when a petroleum pipeline in the coastal city of Qingdao in China caught fire and exploded.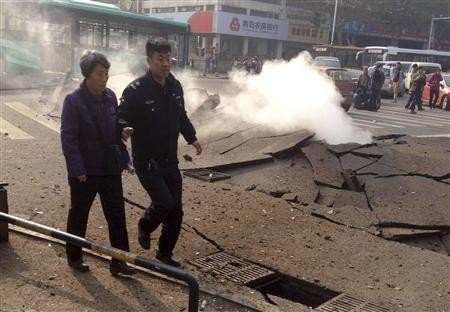 State news agency Xinhua quoted officials saying that workers were repairing the petroleum pipeline when it broke around 10 am.
Due to oil leakage, the pipe exploded and the accident happened at 10.30 am in Huangdao district of eastern province Shangdong.
At least 22 were killed instantly by the blast, while the number of injured is still unknown. The injured were taken to a hospital for treatment.
The authorities had closed down the oil supply through the pipeline during the wee hours because of the repair work.
According to a BBC report, around 100 firemen were successful in putting out the fire. Sinopec posted on its website that the fire was put out by 1 pm local time.
Photos posted on social networking sites Twitter and Facebook show huge amounts of smoke from underground, with concrete slabs of the road scattered.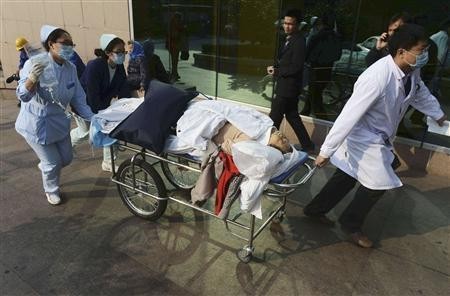 Qingdao municipal environmental protection bureau told PTI that barricades have been set up to prevent the oil from entering the sea. The maritime safety administration in the city is yet to release the report on the oil pollution caused by the blast.
The 176-km long pipeline is owned by China's largest oil refiner Sinopec, which is also state-run. It connects oil depots from Huangdao to Weifang city, home to a few petrochemical plants, reported PTI.
While the officials are yet to investigate the cause of the accident, Sinopec posted on its microblog that the leak in the Huangwei oil pipeline caused the blast.