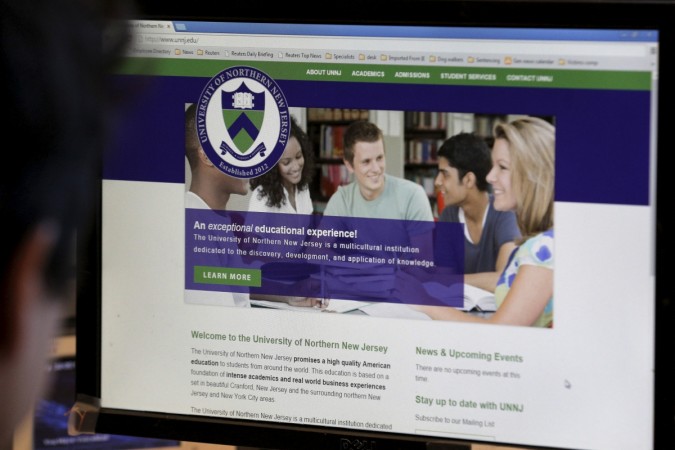 As many as 21 people, mostly Chinese and Indian, were arrested Tuesday from New Jersey and Washington for committing visa fraud in the U.S., the country's Justice Department said in a statement. The people arrested are accused of abetting in visa procurement for more than 1,000 students to study at a fake university.
The University of Northern New Jersey (UNNJ), which had its own website, logo and Facebook page, was set up by security authorities in the U.S. as an elaborate sting to arrest those who commit visa fraud. The students willingly participated despite being aware that they would not be attending classes, receiving credit and that the university had no faculty.
"'Pay to Stay' schemes not only damage our perception of legitimate student and foreign worker visa programs, they also pose a very real threat to national security [sic]," U.S. Attorney Fishman said. "Today's [Tuesday's] arrests, which were made possible by the great undercover work of our law enforcement partners, stopped 21 brokers, recruiters and employers across multiple states who recklessly exploited our immigration system for financial gain."
The conspirators, who were recruiting students for a commission, did not know the UNNJ was set up by Homeland Security Investigations (HSI) agents in 2013. The university's address given in New Jersey was only a storefront housing small offices with federal agents posing as university officials.
The students were apparently able to get I-20 visas, which let them stay in the U.S. to complete education.
The conspirators would further obtain labour certifications from the U.S. Secretary of Labor by projecting that foreign workers would be engaged in IT projects at the UNNJ, said the statement, adding that with these certifications in place, the racketeers would then apply for H1-B visas for the "students." However, the U.S. authorities conducting the undercover sting had reportedly advised the U.S. Customs and Immigration Services (USCIS) regarding the operation and most of them were not given H1-B visas.
The HSI identified, in the process of the investigation, hundreds of people who entered the U.S. in the same manner using F-1 non-immigrant student visa for the Student and Exchange Visitor Program (SEVP). Hence, hundreds of people could face deportation or charges.
"Individuals engaged in schemes that would undermine the remarkable educational opportunities afforded to international students represent an affront to those who play by the rules," said Special Agent in-charge for U.S. Immigration and Customs Enforcement Homeland Security Investigations Terence S. Opiola. "These unscrupulous individuals undermine the integrity of the immigration system."
The Indian Embassy in Washington has asked the U.S. government to transfer the 370-380 Indian students to a different university, much like in a similar case from earlier, instead of deporting or arresting them, according to the Hindustan Times. They have also sought consular access to people with Indian passports among the 21 arrested.