Dodge, the American car maker has just unveiled an ultimate drag special muscle car christened, 2018 Challenger SRT Demon. The Michigan-based car maker had made its presence felt in the high-performance car scene in 2014 with the 707hp Charger SRT Hellcat and Challenger SRT Hellcat. The company is going the extra mile with Challenger SRT Demon and how!
Also read: Top 10 insane supercars of UAE Police including Lykan HyperSport, Aston Martin One-77
Dodge says the car is as good on the street as it is in the drag strip. "With Demon, our goal was to build a car that would tattoo the Dodge logo into the subconscious of the general market, beyond even our loyal enthusiasts, said Tim Kuniskis, Head of passenger cars at Dodge, SRT, Chrysler and FIAT, FCA North America. "To do so, we had to set records that have never been set before, do more than has ever been done before, go beyond even the legendary Hellcat.
A look at specs will vindicate the claims. The Demon comes with a host of world's firsts that will put supercars and even the hypercars in shame.
Here are the 10 things you need to know about the Dodge's latest offering.
1. The supercharged 6.2-litre V8 mill in the Demon develops 840hp of power and 1045Nm of torque making it the most-powerful muscle car ever. It is also the highest output V8 production car engine.
2. The Demon boasts of a first-ever front-wheel lift in a production car. It has been recorded traveling 2.92 feet from stand still with its front tires airborne and a Guinness World Records to boot.
3. Challenger SRT Demon can hit 96kmph from idle in 2.3 seconds making it the world's fastest 0-96kmph production car.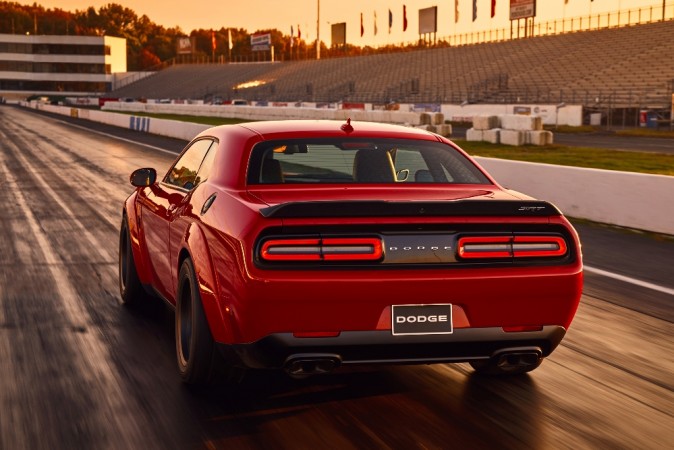 4. Challenger SRT Demon registers the highest g-force (1.8 g) ever recorded at a launch in a production car.
5. The Air-Grabber induction system of the car include largest functional hood scoop (45.2 square inches) in any production car.
6. In drag mode, Challenger SRT Demon will use the air conditioning system to chill the air cooler. Another first in a factory-production car.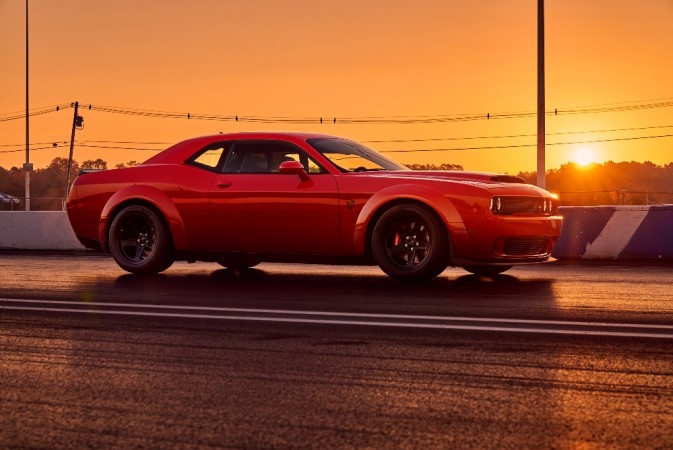 7. It is also the first factory-production drag car with Torque Reserve, to deliver increased levels of power and torque at launch.
8. Challenger SRT Demon can run on 100+ octane race fuel or 91 octane. Dodge claims it's the first ever factory-production car designed to handle both race fuel and pump gas on demand.
9. It is the first factory-production car with TransBrake. The feature gives improved reaction times and more consistent launches by utilising the steering wheel paddle shifters as a launch trigger.
10. Since the Challenger SRT Demon is too fast for the drag strip, National Hot Rod Association (NHRA) has officially banned the car.