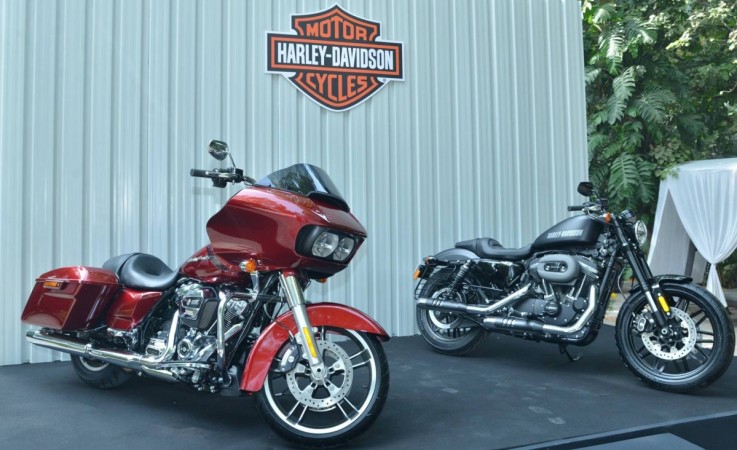 American Iconic motorcycle manufacturer Harley-Davidson launched 2017 model year line-up of motorcycle in India with the addition of two new motorcycles – the Roadster and Road Glide Special. The new range of Harley-Davidson include 13 models and all the motorcycles come with Anti-lock brake system as standard. The price of new range starts at Rs 4.91 lakh and goes up to Rs 50.62 lakh, ex-showroom, Delhi.
The new motorcycle, Roadster is part of Sportster family. The motorcycle comes with fastback design inspired by classic racing motorcycles and targets the youth as its market. It is powered by an air-cooled 1200cc V-Twin engine that delivers peak torque of 103Nm at 3,750rpm mated to five-speed transmission. It gets a 4-inch digital instrumentation and the motorcycle has been priced at Rs 9.70 lakh, ex-showroom Delhi.
Other new motocycle, the Road Glide Special is part of touring family and it has been priced at Rs 32.81 lakh. The Road Glide Special is powered by all-new Milwaukee Eight 107 Single Cam 1,750cc V-twin engine that develops peak torque of 150Nm at 3,250rpm. Additionally, the cruiser also boast of 6.5-inch touchscreen infotainment system and djustable rear suspension.
The entire touring family of motorcycle -- Road King, Street Glide Special and Road Glide Special—are now powered by all-new Milwaukee Eight engines. Retaining the classic 45-degree V-Twin cylinder angle, the Milwaukee-Eight engine produces 10 percent more torque than previous year models. The engine is counter-balanced to cancel 75 percent of primary vibration, a spot on feature for cross-country touring rides.
"Our latest offerings demonstrate our commitment to deliver world-class products to our customers in India. The introduction of the Milwaukee-Eight engine in our touring lineup is a direct response to the voice of Harley-Davidson customers around the world and we are thrilled to bring the same to India," said Vikram Pawah, MD, Harley-Davidson India.
2017 Harley-Davison motorcycle range (Ex-Delhi)
Family
Motorcycle
Price
Street
Street 750
Rs 4.91 lakh
Sportster
Iron 883
Rs 7.99 lakh
Sportster
Forty-Eight
Rs 9.50 lakh
Sportster
1200 Custom
Rs 9.29 lakh
Sportster
Roadster
Rs 9.70 lakh
Dyna
Street Bob
Rs 10.67 lakh
Dyna
Fat Bob
Rs 13.09 lakh
Softail
Fat Boy
Rs 16.35 lakh
Softail
Heritage Softail Classic
Rs 17.79 lakh
Touring
Road King
Rs 26.49 lakh
Touring
Street Glide Special
Rs 31.25 lakh
Touring
Road Glide Special
Rs 32.81 lakh
CVO
CVO Limited
Rs 50.62 lakh