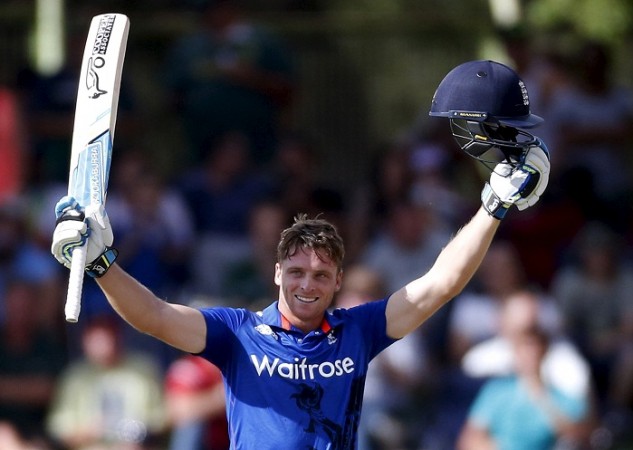 Jos Buttler was expected to go for huge money in the 2016 Indian Premier League (IPL) Player Auction on Saturday in Bangalore. Mumbai Indians (MI), who signed him for Rs 3.8 crore, are relatively surprised they got the player for cheap, as he was said to be one of the most wanted players prior to the auction.
One would have expected a number of teams to bid for the player, but barring Mumbai, only Kolkata Knight Riders (KKR) put in a bid for him.
At one point of time during the auction, Mumbai, who were the first to bid for Buttler, looked as if no one would bid for the player and they would get him for his base price of Rs 1.5 crore. However KKR jumped into the scene, but Buttler, who was finally bought by Mumbai for Rs 3.8 crore as KKR pulled out.
Mumbai were not letting Buttler slip out of their hands as he was one of their key targets during the auction.
"I think we identified a bunch of players that would fit that category of choice in our internal evaluation. Yeah, I am really surprised that we got Jos Buttler for Rs 3.80 crore. We had accounted for a lot more. We are really happy to have him and I think he makes a fantastic additions to Mumbai Indians," MI's Akash Ambani was quoted as saying by Indian Info Line.
Mumbai Indians are going to reap huge benefits from the player, who is in great form, scoring runs in coloured clothing for England. The defending champions have some huge names in their squad for the ninth edition of the IPL, which starts on 9 April.
Buttler's inclusion has already made the existing batting line up of Mumbai Indians strong. Lendl Simmons, Ambati Rayudu, Rohit Sharma, Kieron Pollard and Corey Anderson are the other key players, who can contribute with the bat in their own capacity.
Last year, it was Parthiv Patel who kept wickets for MI. With Buttler around, he could lose his gloves to the Englishman, who may be asked to open the innings as well.
Complete Mumbai Indians team for the 2016 IPL Player Auction
Mumbai Indians: Rohit Sharma (C), Lendl Simmons, Ambati Rayudu, Corey Anderson, Unmukt Chand, Kieron Pollard, Parthiv Patel, Mitchell McClenaghan, Lasith Malinga, Marchant de Lange, Akshay Wakhare, Harbhajan Singh, Hardik Pandya, Jagadeesha Suchitch, Jasprit Bumrah, Nitish Rana, R Vinay Kumar, Shreyas Gopal, Siddhesh Lad, Jos Buttler, Nathu Singh, Tim Southee, Krunal Pandya, KP Kamath, Jitesh Sharma, Deepak Punia.